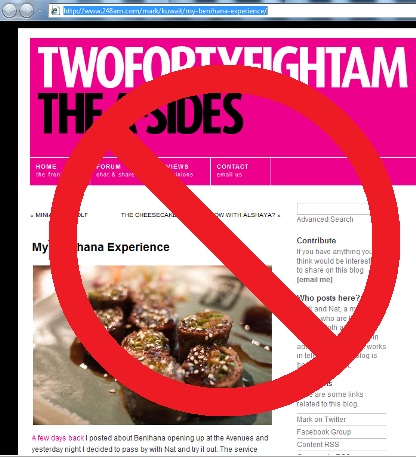 This blog supports Mark's freedom of posting his review, whether good or bad, on his blog!!!
In case you have been living under a rock lately, the story is that blogger Mark from the blog 248am.com is being sued by the Benihana Kuwait owners simply for trying their restaurant, not liking the food, and stating on his blog in a very civil manner (read post)! I was in Dubai when i first read about it and i couldn't believe it… the news ruined a perfectly good day well spent!!!
Now that i am back home i am able to say that prosecuting Mark for having a bad experience in a restaurant and posting honestly about it is just something from the dark ages. That is just sad and very disturbing. Sadly i fear that many other establishments would do the same if anyone reviews them negatively although any kind of publicity is good publicity!!!
I would have tried Benihana even if i had read a negative review about it. Now i will never set foot inside knowing what they do to customer who complain about their food. They should've contacted Mark and offered him a complimentary meal where they make sure that their mistakes were not repeated… not leave endless comments on his blog and deliver him a law suit demanding he pays 5000 KD plus closing down his blog!!!!
Mark & Nat, this blog and it's writer supports you all the way! No matter how long this case would take to settle… and i am hopeful that it will settle in your favor by gods will!
---
Comments are closed.
---