One of the restaurants i enjoyed having dinner at in Jumeirah Beach Residence Walk was El Chico Mexican Restaurant. I am a big fan of Mexican Food and Dubai has a great variety of Mexican choices, something we lack here in Q8 unfortunately. El Chico's food was very good and the service was friendly… plus the portions were HUGE! We sat outside in the amazing weather… it rained twice while we were eating but my husband was so engrossed in his food he refused to budge even though we were getting a bit soaked!
We started off with a basket of tortilla chips & salsa… I ordered a Vegeterian Fajita without spices since my poor stomach cannot take spices anymore and i was told there is a bit of spice but i won't feel it and they were absolutely right! It was good…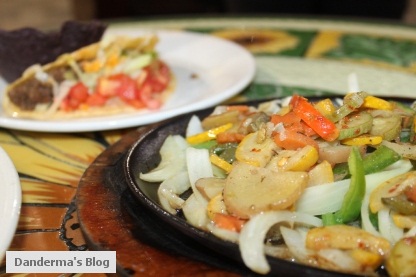 My fajita came with a side of  flour Tortillas, guacamole, sour cream, cheese, pico de gallo, refried beans, and rice…
My husband ordered a strawberry margharita to drink…
For starters we ordered the Taco Salad and we enjoyed it very much…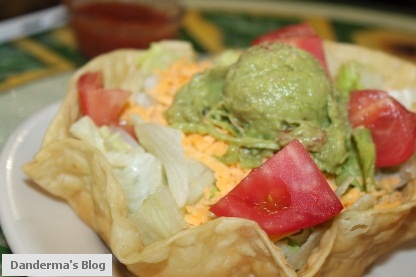 Then he ordered some dish i don't remember it's name but it was HUGE! 3 borritos of different types with different toppings, a round tortilla chip sitting on top a bed of mashed refried beans with pico de gallo, and on a different plate a filled hard taco with a cheese dip!
The atmosphere, the setting, the food, the service, the prices… all top notch! If you are a fan of Mexican Food, you must stop by El Chico sometime soon and sit outside to enjoy their dishes while this good weather lasts…
---
---