Day 5 was the WORST day EVER!
For breakfast i tried Labna Fatayer for the first time. How can someone screw up a basic labna fatera is beyond me! The dough was fine, the portion was fine, the filling was fine… the problem is that the fateera must have been glazed with some eggs before baking… it was ZAFRA! Zafra zarfa as if i am eating raw eggs :S STAY AWAY FROM THE LABNA FATAYER!
I was sad but i was happy when i recieved our lunch of the day… We had recieved Tuna Sandwich with Potato Salad for my husband… and the paper read "Ravioli & California Salad" for my lunch! Sweet! Ravioli! I love Ravioli!
This is my husbands lunch…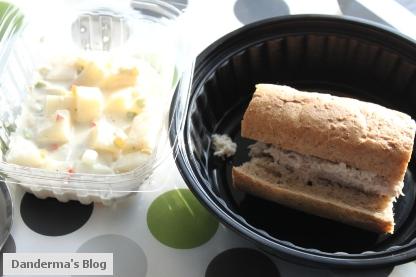 The potato salad was fine. Too much mayonaisse for his liking. He says he wouldn't order it again though. A green salad would be lighter.
The tuna sandwich was a big disappointment. Canned Tuna mixed with mayonnaise inside a brown bread baguette! That's it! No lettuce, no tomatto, no garnish, absolutely nothing.
Again he said nothing special and he wouldn't order it again. As for me i had been bubbling with excitement waiting for my ravioli… The california salad was ok as usual… Ravioli is what matters right?!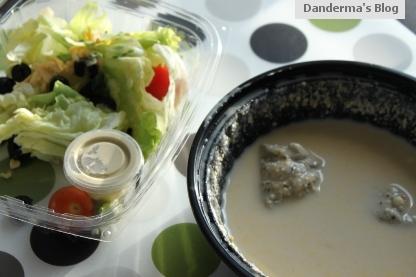 Those two unidentifiable objects looking like little rocks swimming in this liquids with bits of god knows what swimming inside… this is the bloody ravioli!!!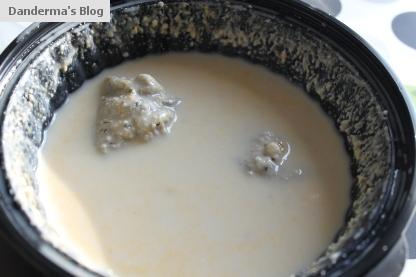 Tell me who in their right mind would be willing to eat such a thing?! Ravioli is always neat and nicely shaped and swimming in a lovely sauce… why a white sauce b3d? Put on some tomato sauce it's LIGHTER! What the hell is that!!!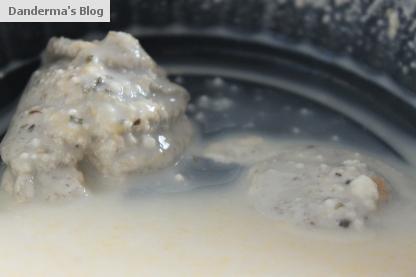 La o il portion is tiny too! Seriously!? You know what i had for lunch?!!
Indomi Instant Noodles to the Rescue! I am glad i bought these! Just pout 300ml boiling water into the pot and wait for three minutes!!! 7esbya Allah wa ne3ma il Wakeel!
Stay away from the ravioli. STAY AWAY FROM THE RAVIOLI!
For dessert i got chocolate short cake. It is exactly like the kind of cake we ate in the 80′s… very bad day indeed!!!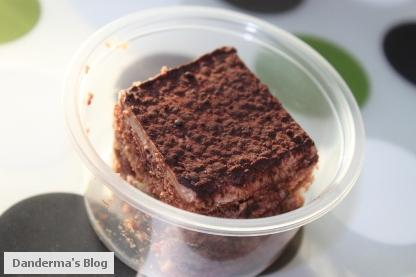 ---
---