cheap flights lyrics
Lianjiang Day 11 is here… Tuesday… which means Um Ali day!
Ever since the day i joined i wanted to try LoFat's Um Ali but they didn't bring it that Tuesday

… today however i found the Um Ali in the box delivered!
For breakfast i had my bagel with Philadelphia cheese and strawberry jam… it was good! The bagel was soft and chewy and very good. Sadly i received Labna fatayer for breakfast tomorrow :S I hope it isn't as… well as zafra as last time!
I have received hummus with bread instead of a salad and pasta with baked vegetables for lunch…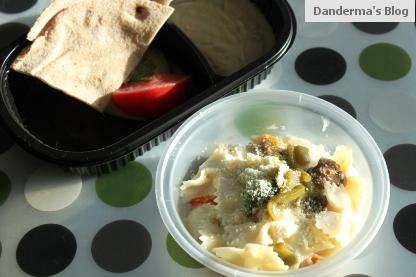 The hummus was good. The pasta was very very good… way better than the pasta primavera i tried on the first week with LoFat! I will definitely order it again!
My husband got Kushari and Green Salad with mustard vinigeratte. He liked both fine.
I couldn't wait to heat up the Um Ali to try it… it looked really good… sadly it had not one droplet of sugar in it!!! I don't understand? The kanafa and the basboosa were overly drenched with sugar… couldn't they spare one granulate of sugar for the Um Ali… it tasted so blah i almost added powdered sugar on top! Akh if only it had any sugar in it, i would have ordered it again

---
2 Responses to "LoFat Diet – Day 11"