Traunstein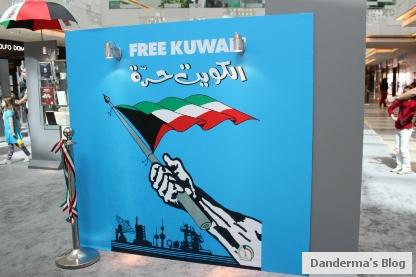 I was walking in the Avenues last weekend when i saw the blue poster above, which was designed by my father in while we were in the UK during the Iraqi invasion in 1990. When i saw the poster from a far I stopped in my tracks and my heart beat loudly for i began to remember my father drawing the arm in our flat and me watching him draw in fascination. I decided to approach the exhibition and check it out…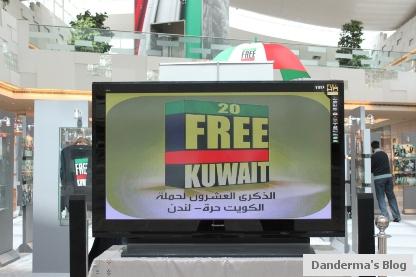 It was a specific exhibition dedicated to the 20th anniversary to the Free Kuwait Campaign in London during the Iraqi invasion on Kuwait which i know my father worked on. What is displayed in the exhibition?
Many pictures  of Kuwaiti's in London during that dark period of Kuwait's history. People in Rally's, In Kuwaiti plays and shows, in the Kuwaiti dewaniya listening to political figures, in the exhibitions held by Kuwaitis for Kuwaitis…
Pictures of some of the items worn and used by the Kuwaitis to remember our cause…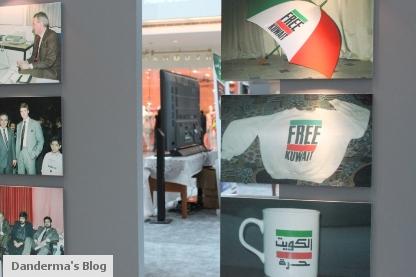 Publications and documents printed at that time…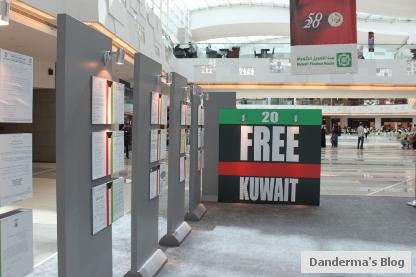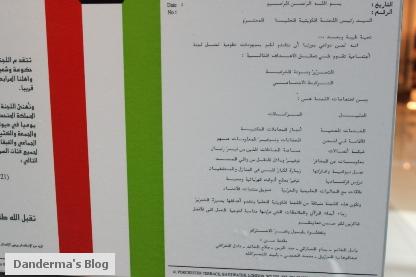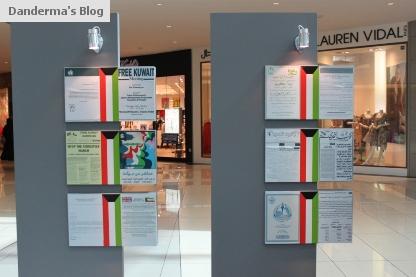 The callighraphy done on the paper below was by my father, he is so good at calligraphy Masha2 Allah he has a masters degree in Arabian Calligraphy and i love watching him write. I however have the worst handwriting in Kuwait

Postcards designed for various occasions and used during the Invasion. This one is for Eid Al Fitr and is also designed by my father.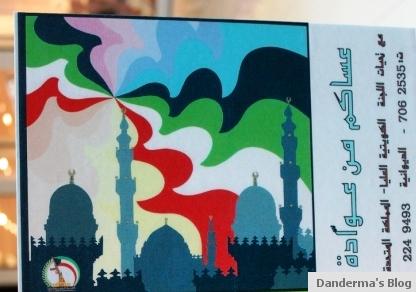 Another postcard, also designed by my father…
Another postcard designed by my father. I remember him clearly watching him while he was drawing this post card in our flat in London and colouring it.
There was also a magazine or a publication that the campaign produced every now and then. Maybe monthly. My father was… what do you call him? The person who designs the cover and cuts and pastes the content to fit into the pages before being taken to the printer. He says the blue magazine below was designed especially to be taken to the Late Emir of Kuwait Sheikh Jaber Al-Sabah Allah yer7omah in Jeddah. Also designed by my father…
The NO poster below is also another poster designed by my father… there is another poster showing a Kuwait Airways flight up in the clouds coming back home but it wasn't shown… i'll try to locate it in his atelier and show it on the blog…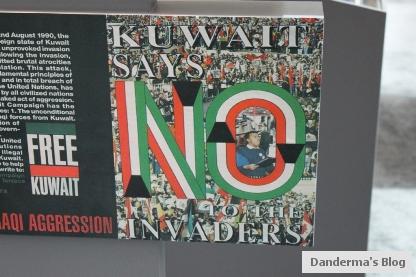 I found this flag signed by Kuwaitis in 1990…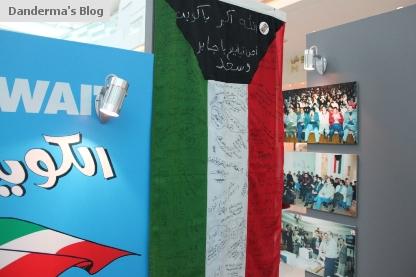 Now here comes the good part… on the walls of the exhibition they mention the name of the committee who worked on the Free Kuwait Campaign in London. If you want to know my father's name… well you won't be able to because he is not mentioned ANYWHERE in the exhibition. His work is shown, his name is neglected.
When i showed my father the pictures of his work shown in the Avenues he asked me "Do they mention my name any where?" and reluctantly i had to tell him no. Maskeen. I told him that i will tell people on my blog that those are YOUR designs. No one can change that. When my father made and designed those and worked in the morning in the King Fahad's Academy while worked at night for the design of the media campaign and publications, he did it for his own country Kuwait, not to hear a thank you from anyone. But to put up an exhibition 20 years on, put up his work EVERYWHERE,  while neglecting any mention of my father, is just plain UNFAIR.
Plus, do you know how the people who worked on the campaign knew about their exhibition? With one long ad in one lonely newspaper "Alwatan" placed on the day of the exhibition… that's it!
At least they had the decency to place my fathers name in that ad. This is the closest mention he had… and i am putting it on my blog for whenever i see the blue poster in the Avenues which i am sure 3/4 of Kuwait had seen by now… i remember my father, 20 years ago, drawing that blue hand and that flag while i watched him in fascination and pride!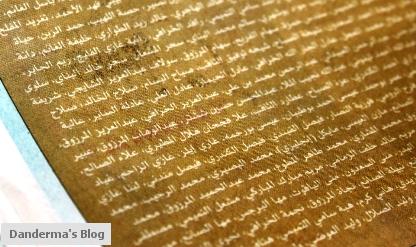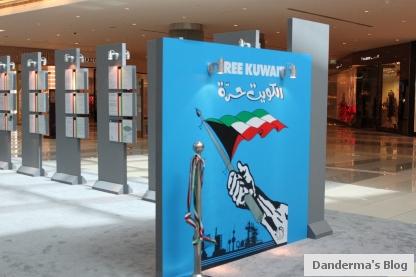 ---
36 Responses to "My Father's Designs in the Free Kuwait Exhibition in the Avenues…"