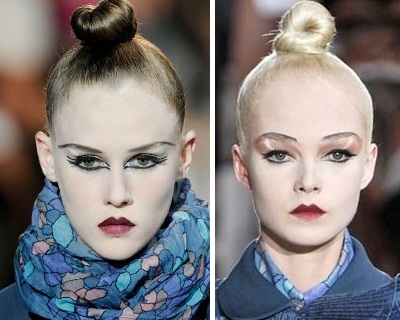 Two years ago Kuwaiti Girls decided that a bun was the "it" hairdo to our various occasions. To be frank i was relieved since it means spending much less time in the Salon to prepare for a party.
I thought that style had blown over by now. To my surprise i began noticing a new trend in the Avenues last week! Many many girls had their hair in a bun… not any normal bun no no… a very tight very high bun on the top of their heads tightly knotted over slicked back hair…
That style is definitely not for everyone. Very few people would be able to pull it off to be frank. and none of the girls i saw did. It looked a bit scary, quite strange as if they had just gotten out of the shower and had no time to do their hair, and it looked very painful. I don't see the beauty in this habba…
Any ways it is there already. The girls who wore it were mostly tanned, wearing skinny jeans or leggings, a jacket for the winter, high heels, Cleopatra eyeliner, and earrings of course.
Please for the love of god i beg of you, if you are not stick thin and you have a leqleq and/or khdood (double chin & cheeks) please do not attempt this hairdo, it WILL NOT look good on you. It can barely pass on stick thin girls… Salma Hayek can barely get away with it… Victoria Beckham would pass with flying colours though…
What do you think of this hairdo? Would you wear it for your next outing?
---
24 Responses to "Habba Alert: Very Hight Very Tight Hair Knot"