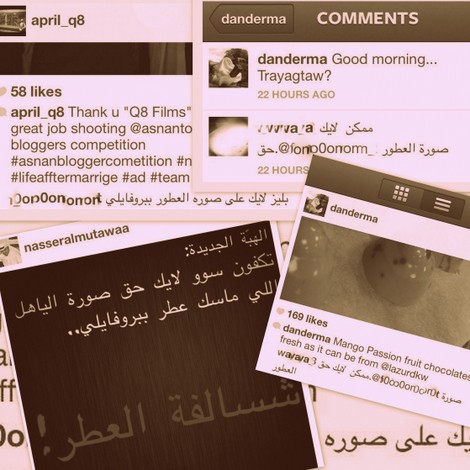 Since 3/4 of Kuwait are now on instagram, I'm sure all of you had encountered the infamous, most annoying comment of last week: Please like 9orat el3o6or ele eb profily.
Dear companies, we realize that the use of Social media outlets have been great for your business. I personally salute you for being modern and on trend. I don't blame you for holding out competitions at all but please, for the love of god, I beg of you DO NOT have competitions where people with the most number of likes win. PLEASE!
First, its unfair. Some pictures are truly horrible, simply an eyesore that lacks any creativity. Yet horrible pictures win because the person who submitted it is either very popular, have a huge extended family, or simply a shameless beggar who would stop at nothing to harass people, over an over and over and OVER again, for a like.
Why don't you choose the best pictures yourself? Its not hard, gather the pictures, have 3-4 people from your management vote on them and announce the winners instead of having us, the poor instragrammers, ruing the day you have decided to hold a competition and counting the day until the competition is up.
And you, you beggars, have you no shame? No dignity? Really wallah? You think your horrible picture deserves to win what exactly? A bottle of perfume? Can't you go and buy it yourself? Its not a Rolls Royce, or a Park Lane penthouse. Have you no regards to other people's feeling? A bottle of perfume is the price for your own dignity, now that's it?
If you've been annoyed by those instragrammers asking for votes, don't be shy let it out here.