Teluknaga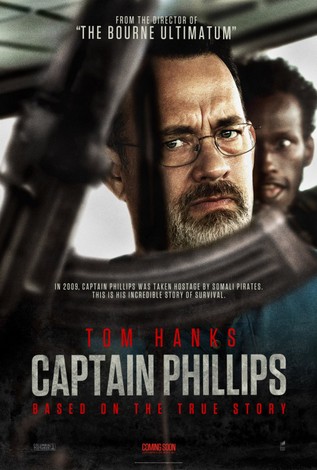 I wouldn't usually and willingly go into a cinema to watch a movie about sea pirates, not even pirates of the Caribbean, but if it was a Tom Hanks then it's a must see movie regardless of the story or the trailer. I went to watch Captain Philips yesterday and I have to say I wasn't disappointed at all.
Captain Philips movie is based on the true story of the real Captain Richard Philips who was captain of the Maerask Alabama cargo ship that was hijacked by Somali pirates in 2009. The movie is almost entirely shot on the ship and a lifeboat, with some gory bloody scenes and lots of violence. It makes you wonder how a small boat with only four pirates with rusty rifles can hijack an entire cargo ship. Its also quite sad, how those poor young men resort to a life of crime and piracy for a living in this day and age. I wonder why cargo ships aren't provided with any kind of weaponry to defend themselves against such attacks if they are working in dangerous waters.
The movie is long and I enjoyed watching it but I doubt I'd enjoy watching it again. It's the kind of movie you watch once in the cinema and not at home on a DVD but I'd still add it to my DVD collection since Tom Hanks acting was superb as expected.
---
2 Responses to "Movie Review: Captain Philips"