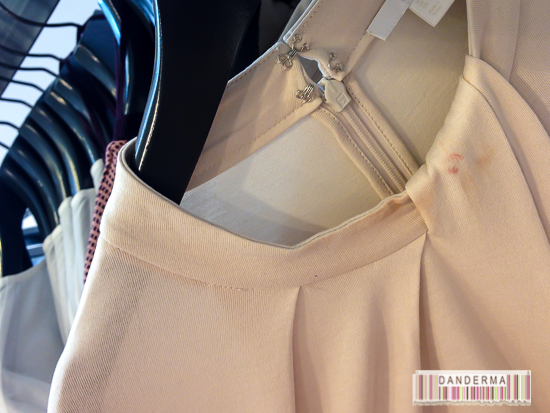 Would you buy the last piece of a new garment in your size if it was the last one on the shelves and you really, really wanted to buy it, but it was smeared with makeup stains from a previous customer who tried it on and didn't purchase it?
I wouldn't!
I'm not sure who to blame for putting back makeup stained garments on the shelves, but I am sure not going to pay my hard earned money on a piece of clothing that is already ruined by lipstick and foundation from some other ignorant customer's beauty mask. That garment would need to be washed first, most probably dry cleaned, and there would still be no guarantee that the makeup stains will come off. The stains are also a harsh reminder that whatever we choose to try and wear in stores could have been touched and tried on by someone before us. Someone who not necessarily just out of the shower, or free of viruses and diseases. Perhaps they had the flu and happened to wipe their runny nose on the collar of the dress as they were forcing it down their neck. I'm squeamish but I tend to force myself to buy things and not thing about those imperfections very much but I do know women who would insist on buying things if and only if they are brought in fresh from the stock room. However, I haven't reached that extreme -yet- but a reminder to the fact that someone who couldn't care less about the cleanness of an item being tried on is not something I'm willing to pay for.
That being said, I wonder why stores put back stained garments back on display to sell! Abroad, some stores provide customers wearing makeup a protective mask to put on before trying on garments. Also, ruined garments whether by makeup or by a tear or a fault is almost always discounted greatly. Here, however, the garments I've seen are put back nonchalantly, as if nothing is wrong with them, and paying customers are expected to just pick them up and pay full price for them?
Stores can always enforce a rule of not allowing customers to try on clothes if they have full makeup on. Or check the clothing after its been tried and have the customers, especially the tactless ones who stained a perfectly fine garment, pay for the piece or at least for its dry cleaning! I personally would pay for something I ruined by trying on in a store, it is the decent thing to do, I wouldn't ruin something and just walk away like nothing is wrong because that's not fair! In the worst case scenarios, if the damage is done and the store doesn't want to bother the wronged customers, at least clean the item up or keep it hidden until sale time then display it with an extra discount! A stained garment is after all a dirty one and putting dirty clothes all over the store, not one not two but many, eventually means the store is indeed dirty! Why vacuum the floors and dust the shelves yet display makeup stained clothes?
P.S. Dear fellow female, the next time you decide to try on clothes, please wipe your face clean from foundation and if you are putting your head through the collar, you can always suck your lips in carefully. After all, you wouldn't want your makeup to be ruined now, would you?
---
8 Responses to "Would You Buy Makeup Stained Garments?"