Shenyang
Andalucía One of my favourite played MSX games in the 80's was Athletic Land. It was kind of special to me, partly because no one else liked to play it and when I did I had it all to myself without other children nagging for their turn to play.
In the game you can go either right (which I suppose is the right way) or left. If you go right the game will be hard but if you go left you are basically running behind all the dangers and all you need is speed to dodge running balls and stinging bees.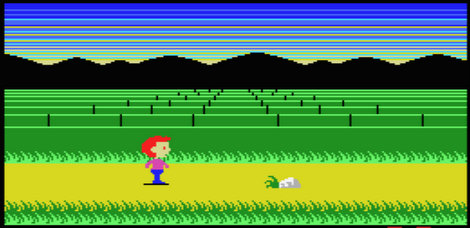 In each stage there are ten scenes. I still remember having a lot of trouble with jumping the ropes over the lake in the scene below and how filled with pride I was when I figured out the exact moment to jump.
Someone once told me that the story behind this game was that the little kid is lost and is on his way home from the woods and if you complete 10 stages the game will end with him returning home at last. All my childhood I tried hard to bring the little lost boy home. I now realise this story was a figment of that person's imagination.
Nevertheless, it was and still is one of the games I like to play to pass time. I don't believe I've ever passed level four of the game and that fact remains true to this day. A small part of me remains wondering if its true, that if you complete ten stages the boy will return home.
Do you remember Athletic Land? Do you know anyone who went all the way to stage ten, if it exists that is?
---
2 Responses to "Blast from the Past: Athletic Land on MSX"