buy antabuse cheap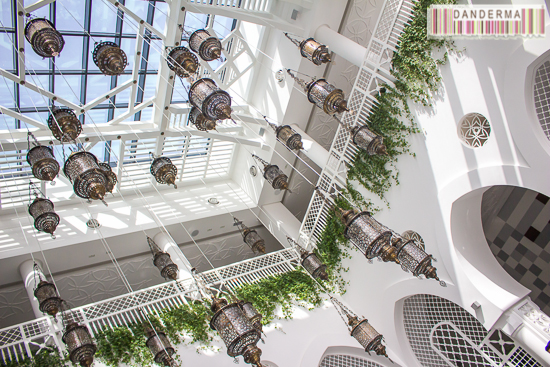 Just before I left for Australia I received the "rosiest" invitation to the opening of Kuwait's newest Lebanese restaurant, Joori from Beirut. I wasn't able to attend the opening, but I've watched the beauty of the restaurant via my fellow bloggers pictures of the place on instagram and I knew I wanted to try it as soon as I was back home, which I finally managed to do last weekend.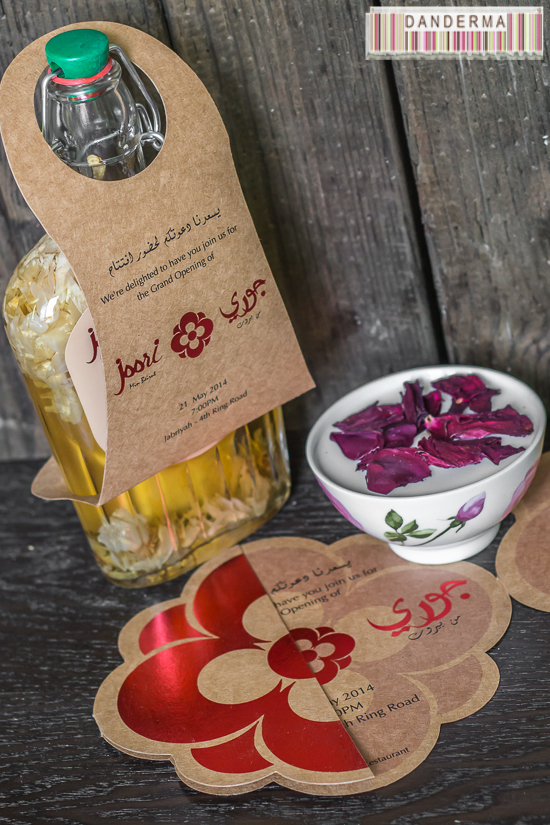 In case you didn't speak arabic, Joori is the Arabic name for the rose. If you've been driving on 4th Ring Road with Jabriya on your right, you might recognise a modernised Arabesque style cube building that was being built right on 4th and as luck would have it, a new entrance into Jabriya was also made just beside it, that would be the newly opened Joori from Beirut. There are plenty of parking spaces around Joori and across the street there is a big empty lot that can double as a parking area so the fact that its located in the traffic impossible Jabriya shouldn't be a problem at all.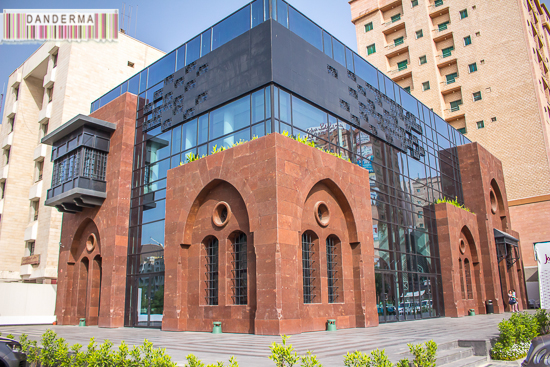 The building is simply gorgeous! I'm not sure what do you call that architecture style, modern Shami? Modern Syrian? I should be brushing up on my architectural knowledge but there is one thing I know for sure, its a building I would gladly move into and call my own home! All big windows and glass with traditional touches fused together immaculately complete with huge ornate iron doors that can be heavy to open.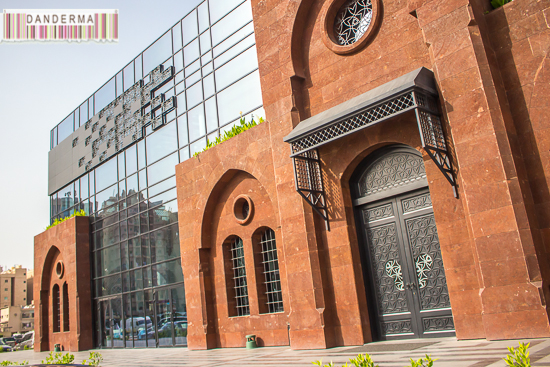 There are two storeys in Joori's building and both have plenty of light streaming in through the windows but we chose to sit in the very heart of the restaurant underneath the big skylight and next to the fountain in the middle. Reservation is not needed by the way and the restaurant though was busy during the weekend lunch hour but there were a few empty tables that can seat walk ins. I have to warn you though, you could walk in a bit of a daze for your eyes would be devouring the beautiful interior of the restaurant especially the area underneath the skylight.
The interior of Joori is stunning! All white, high ceiling, sky light, plenty of light, subtle touches of navy blue that provide both a touch of colour and a good contrast to the stark white walls, and dangling lanterns! It was hard concentrating on the menu, in fact the waiter came to our table three times, but we were just sitting there taking in the beauty of the streaming light, the soft droplets of water of the fountain, to notice we need to order.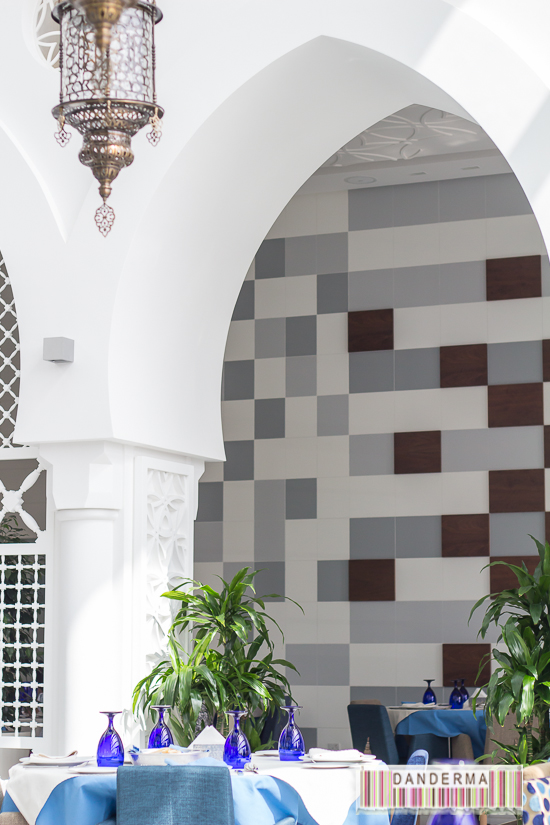 I want to live there! I want this area to be my living room! I wouldn't even want to get out of the house! Did I not mention the one really awesome thing about Joori? It is smoke free which means no shisha and no smokers where around, ruining your dining experience with the fumes of their disgusting uncontrollable habit! I wish all restaurants had that "smoke-free" rule. Restaurants are for consuming food and not inhaling poisonous smoke fumes by force. I salute Joori for such a considerate step.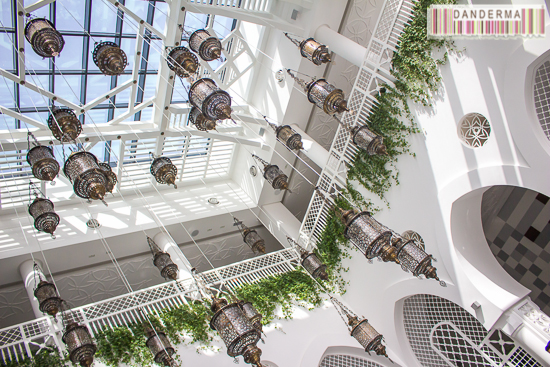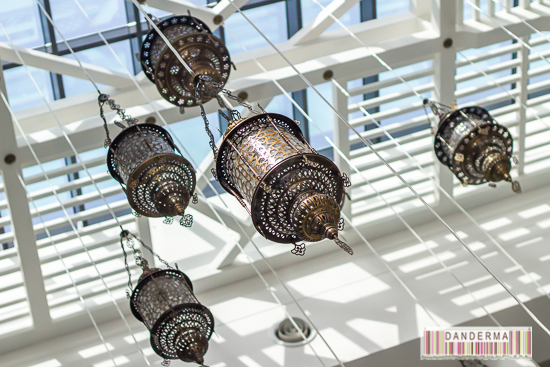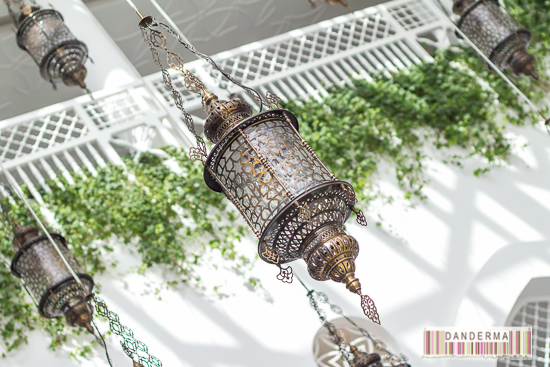 I loved the blue hue of those glasses! The stood out perfectly against the white walls and soft light.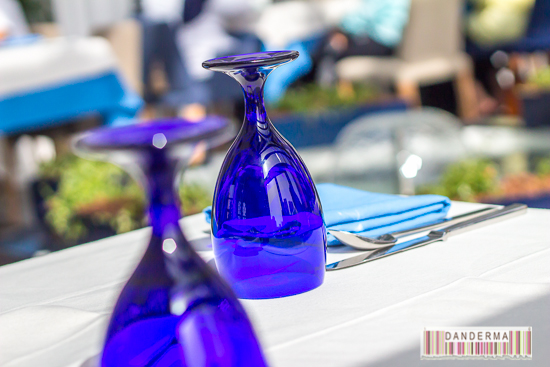 When we finally tore away our eyes from the beauty of the interior, we found the menu to be quite vast with lots of traditional dishes plus variations of those dishes.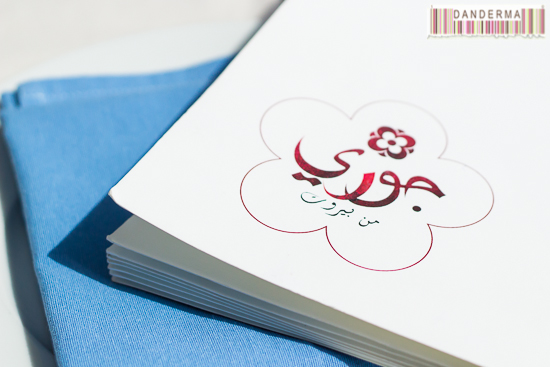 As we placed our order a metallic bowl of freshly baked bread was placed on our table.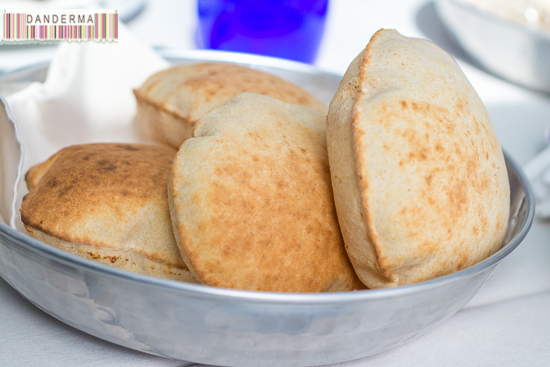 The dishes didn't take long to arrive at all. First to arrive was the Joori fatouche salad which was the traditional fatouche with a tangy yoghurt dressing. I love that fatouche. We didn't order tabbouleh because previous diners said it was just OK whereas the fatouche was really good so we went with the fatouche and I'm glad we did.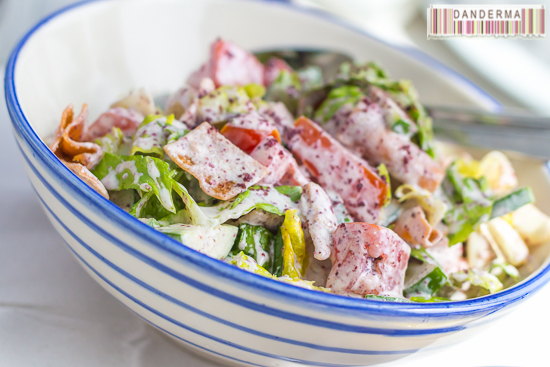 The dips we ordered were the Joori Hummus and the "Medabes Moutabbal". I don't seem to have pictures of the mouttabal made with dibs roman "pomegranate molasses" but the Joori Hummus was made with what I suspect is grilled red peppers and plenty of pistachios. The hummus was good, and quite different, but it lacked that oomph touch to the taste that made it exceptional. The Moutabbal was quite average as well and didn't leave an impression on me.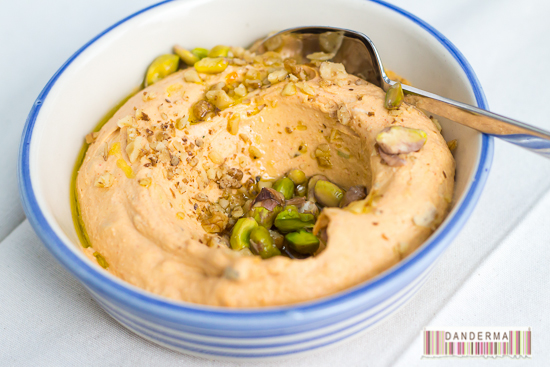 The stuffed vine leaves were good and tangy, but could use a bit more stuffed as they were a bit under-filled and a tad flimsy. I however do appreciate the serving plates above and below, the blue and white matched the overall look and feel of the modernised traditional Joori.
The cheese rolls or roqaqat jeben. They were OK, not bad but not amazing either.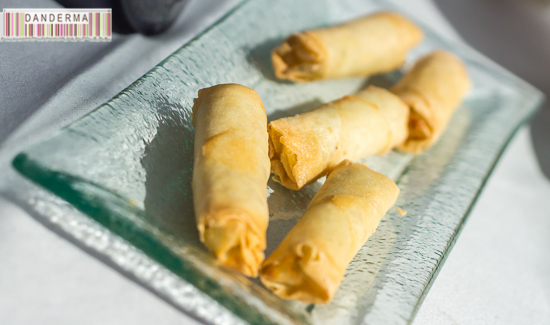 The thyme potatoes are potato wedges with a thyme "zaa'atar" dressing. They were cooked in a way that made them quite puffy and crunchy but even though they were thyme fries, the taste of the thyme was barely noticeable. They also came on a white plate which didn't match the rest of the dishes that arrived before it.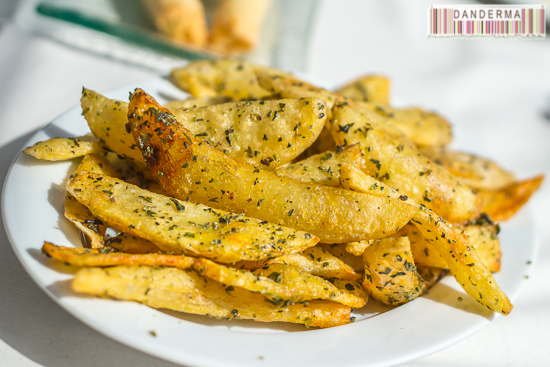 On the menu they had meat arayes and cheese with meat arayes but I asked if they would make me only cheese arayes and they said they could. They were OK but a tad on the dry side. Also, it came out on a white plate again and with a wedge of tomato as garnish which wasn't that appetising to be honest. That was my main dish by the way.
The other main dish we ordered with the grilled chicken tawooq with mushroom sauce which was actually recommended to us by the waiter. When we asked what came with it on the side they said nothing so we ordered some vermicelli rice to go along. The vermicelli rice never arrived though thankfully it was removed from the bill without us asking and the waiter did apologise about it without us saying anything. Now, the chicken with mushroom sauce arrived looking like that…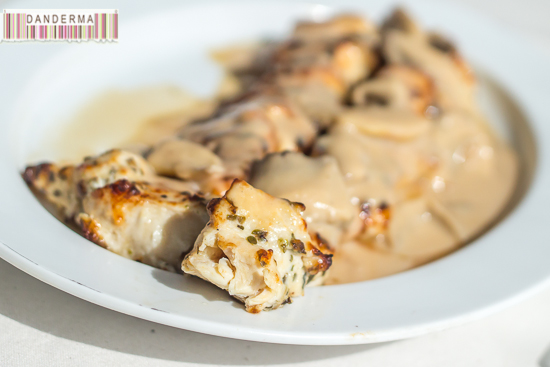 The portion was big, plenty of herbs, grilled to perfection, the chicken was quite white and delicious -according to my husband-. However, the mushroom sauce was made by canned mushrooms and didn't ad much to the taste. A plate of rice or mashed potatoes would have gone perfectly as a side, or perhaps some garnish to dress up the order, but there was none of course. Judging by others reviews and how good the chicken tasted, it seems that the grills are excellent, just skip the mushroom sauce if you are dining at Joori.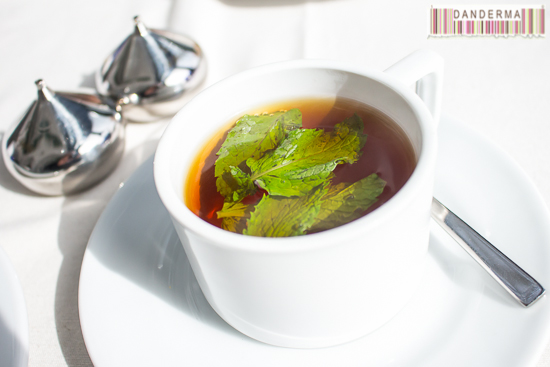 Because the atmosphere was so relaxing and delightful at Joori, we wanted to prolong our lunch and stay for as long as we could and therefore we ordered tea and dessert. If you are sitting by the window at noon it can get quite sunny and tad hot but not that bothersome, I didn't mind it one bit, it is summer after all and I enjoyed my mint tea and ordered the "Othmanliya with ice cream and pistachio sauce" for dessert.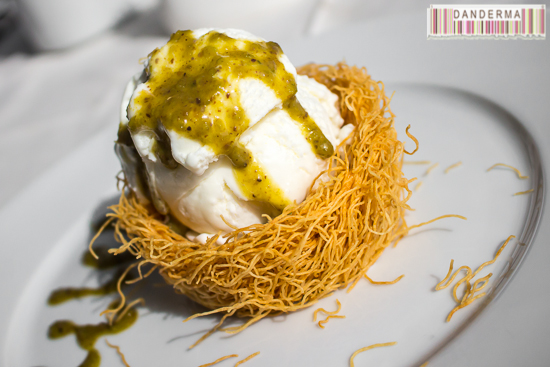 The othmanliya was OK but it was more of a "booth" ice cream with a crunchy vermicelli cup and a drizzle of pistachio sauce than a "othamanliya" in the sense of othmanliya, which is the Kenafa's cousin. You'd have to wait patiently for some of the ice cream to melt in order to drench the vermicelli and soften it a bit or else it would be too hard and crunchy and it could use a bit more pistachio sauce. Order this one if you are craving ice cream because this order is all about the booth but if you are craving Kenafa they have it in cheese and in eshta "cream" so you are better off ordering them.
Our bill came to about 29.300 KD for all the dishes above plus a diet coke and a lemon with mint drink.
I enjoyed my lunch at Joori very much. Some of the dishes need a little more work plus some sides and garnish on the plates wouldn't hurt either but the food is not bad at all. I can imagine myself, coming back again for a light lunch followed by some afternoon coffee and Kenafa and sitting in the centre of the restaurant again underneath the sky light with friends chatting and enjoying the interior and the atmosphere for sure, the place is simply exquisite. For more information about Joori Restaurant you can contact them on +(965)-25335167 or follow them on Instagram (@Joori_Restaurant).
---
2 Responses to "Lunch at Joori from Beirut"