Tāybād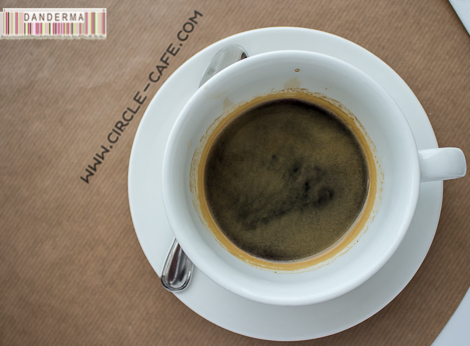 When I was last in Dubai I kept hearing and reading reviews of a Circle cafe. The reviews raved about the lovely interior and really distinguished food. One morning as we were driving down Jumeirah Road we saw Circle Cafe and decided to stop for breakfast.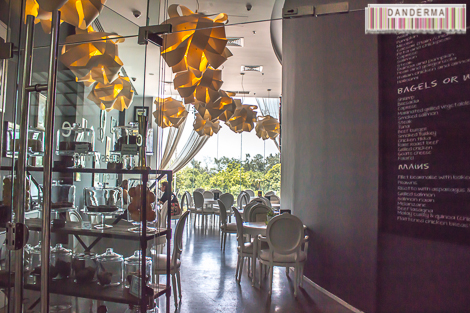 Circle Cafe is located on the second floor of Jumeirah Beach Park Plaza and when you reach it's door you are flooded by the sun light streaming in from the floor-to-ceiling windows in the back overlooking Safa Park. It wasn't very crowded, a few tables here and there with diners having breakfast quietly.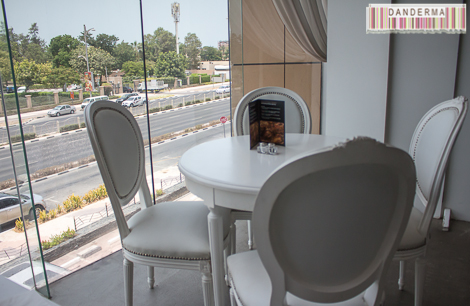 We sat on a window table and the view was lovely indeed, with plenty of sun warmth and morning light. As we sat down we looked around the cafe and it was lovely indeed. Dark grey walls, white furniture, and whimsical items like bird cages and victorian tea cups were everywhere.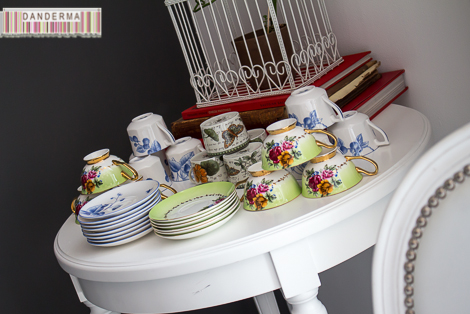 The service was prompt and very friendly, the waiter brought out the menu which looked like a newspaper and dubbed The Circle Times and helped us select our breakfast.
It didn't take long for our breakfast to arrive. First was my double espresso which was good.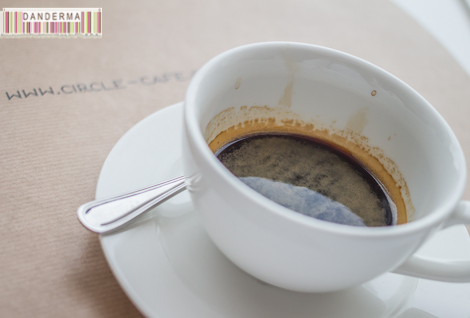 Carrot juice for my husband. Don't ask me why…
The rabbit I had as a breakfast companion ordered a vegetarian omelette with bagels.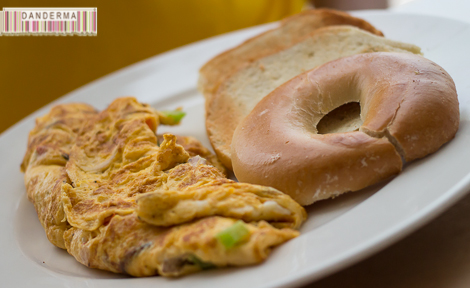 My breakfast was scrambled eggs with hash browns and bagels and I ordered an extra cream cheese on the side. You cannot have bagels without cream cheese now, can you?
Even though my scrambled eggs weren't creamy, more on the dry-shredded side, but the food was really good, even the eggs! The bagels were soft yet firm, slightly toasted, and very delicious.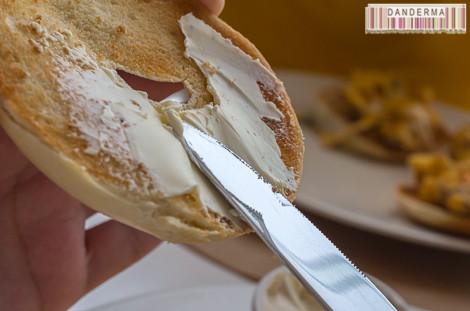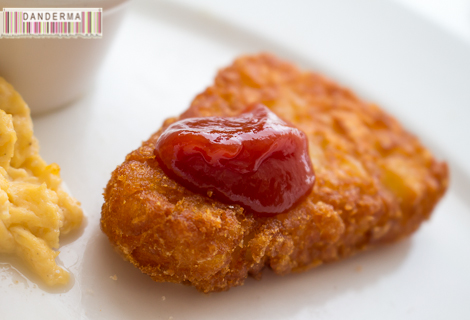 And of course we had the view, watching life unfold in the Dubai morning as we lazily enjoyed our breakfast in peace and quite.
When we were finished and asked for the check, the waiter informed us that they offer a free kunafa cheesecake with every meal as an Eid promotion. We would have loved to try it, the table next to ours were having it and it looked good, but we were too full after our big breakfasts. Next time for sure!
I can understand why people are raving about this place. I would very much want to come back and try their menu for lunch or dinner, especially the Thai green curry with quinoa! If you ever feel like taking a relaxing break and hiding away in a lovely place watching the world as you enjoy good and fresh food, Circle Cafe is the place for you.
Circle Cafe is located in Jumeirah Beach Park Plaza on Jumeirah Road, Dubai. They have other branches around Dubai and Abu Dhabi as well. For more information you can check their website (link), follow them on Twitter (@CircleCafeDubai).
---
3 Responses to "Breakfast at Circle Cafe in Dubai"