Istres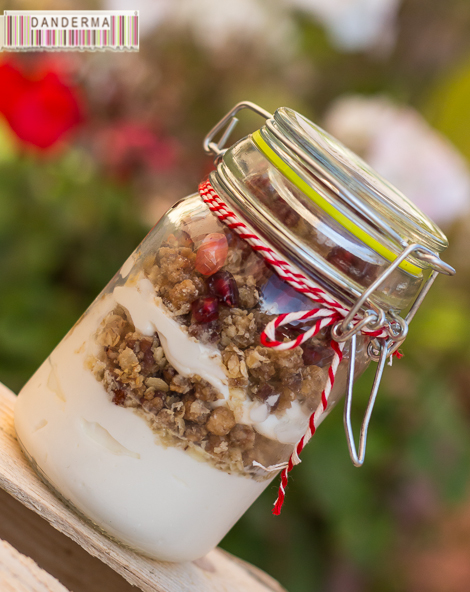 I've come to know about The Hazelnut House about a month ago when a friend of mine told me about them. I've always wanted to go, in fact I have a long overdue list of new restaurants and cafes that I want to check out, but then travelling and the hibernation period I found myself in somehow got in my way until I heard a knock on my door with this lovely basket of goodies from none other but Hazelnut House themselves!
The wicker basket, the logo, the way Hazelnut is written "Häzelñut", all somehow gave me a feel of a little cafe in a quaint Swiss village nestled somewhere over the Alps. I haven't been to Hazelnut House yet but I have a feeling its going to be a cosey place.
The most important thing however is how the food taste, which is what I was about to discover as I tore at the overflowing basket.
The first thing you notice are the jars. Two big glass jars, one filled with cream or yoghurt and fruits and the other with something chocolate-y!
The taller jar with the fruits was a fruit parfait: layers of zero fat greek yoghurt, pomegranate, and crunchy granola.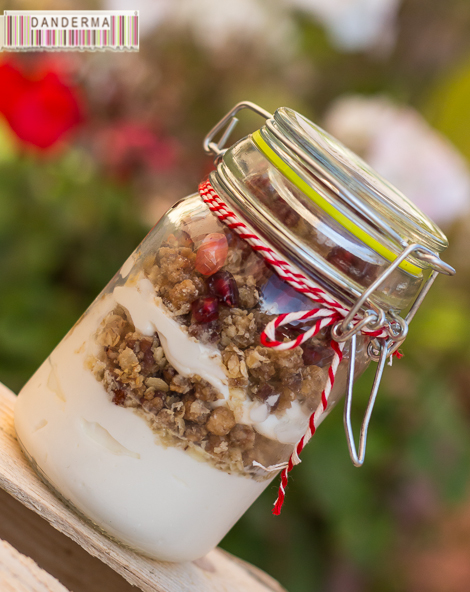 I had the fruit parfait for dinner and it was lovely! Exactly what you'd expect from a fresh and light fruit parfait. The greek yoghurt in particular was excellent: thick, dense, and tangy. It doesn't feel like zero fat at all for it was really creamy. The granola was the cherry on top, simply perfect and highly recommended as a healthy treat.
What I'd recommend as a not-so-healthy and quite naughty treat however would be what's inside the second jar, which is the… Nutella mousse!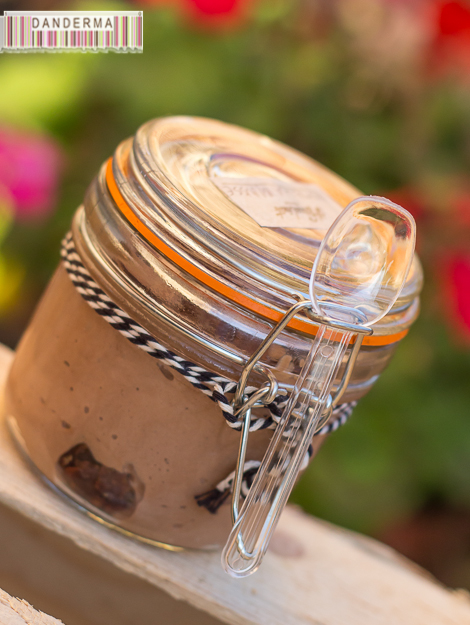 The naughty, naughty, NAUGHTY Nutella mousse!
For the millionths time on this blog I'm typing down this sentence: I am not a fan of Nutella! However, after taking a single spoonful of this fluffy, air-light, heap of chocolaty mousse with some chewy crunchy bits of something thrown in as a surprise I am beginning to rethink my statement! It was, simply put, quite scrumptious!
Perhaps I don't like Nutella per-say but I like it if it was an ingredient in something else where it doesn't dominate the flavour? I'm going to research that. Meanwhile, I swear I only intended to take a spoonful of the Nutella mousse jar but after a few seconds I realised half the jar was gone and my husband was protesting because the mousse was his and not mine! I wonder where he got that idea from? It is my blog after all!
After a little tug-of-war debacle I had to let go of the Nutella mousse jar and focus my attention on something else. Well, there was a little teensy pot labeled Bannoffee and I have an addiction to anything bannoffee and therefore it makes perfect sense that I drowned my sorrow at losing the Nutella mousse jar war by reaching out to the bannoffee pot.
Err… the Bannoffee was gone in two bites because two bites it was only, but those two bites were extremely good! I didn't much feel the "toffee" in the Bannoffee but it was creamy and delicious and everything you'd want from a teensy pot of dessert. I wish all desserts came in similar sized pots, that way we could avoid temptation. One thing I didn't like is the Bannoffee crust though, it was too hard and clung to the bottom of the pot like there was no tomorrow. I couldn't take it out, nor could I break it so I left it where it was. It was that stubborn.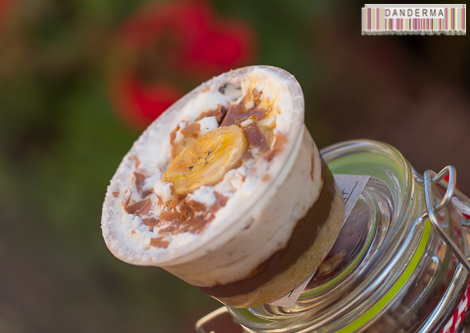 My head was buzzing with sugar after sampling those desserts but I still had a basketful of goodies to go through. There were cookies, rocky road bars, brownie bites, three different kinds of truffles, and blondies if I'm not mistaken.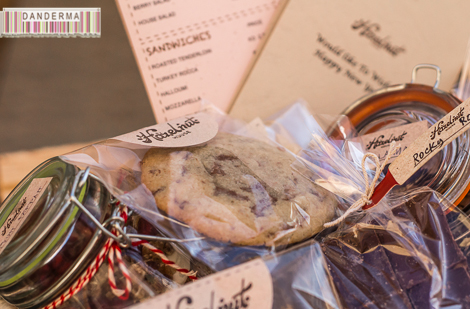 The cookies were OK, a bit on the greasy side and not as chewy as I usually like my cookies to be. The brownie bites however were lovely, fudgy and chewy the way brownies are supposed to be made and I dare you not to finish the little bag of four once you take a bite of one.
I mentioned that there are three kinds of truffles in the basket. The first one, and the only one I managed to photograph, is the pistachio truffle. I didn't taste it myself for I am not a pistachio fan at all but my husband was in love.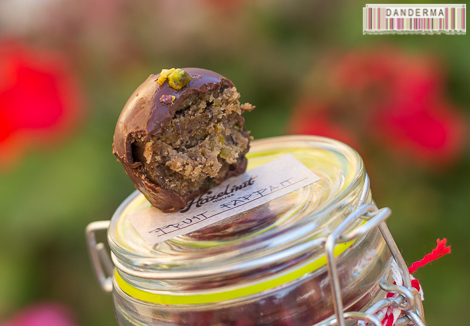 Now the reason why there are no photographs of the other two types of truffles is that, well, err, I devoured them before I took their picture. In my defence I was meaning to photograph them half bitten, but then they disappeared and all hope of them being photographed would be by x-raying my stomach. One was an Earl Grey tea truffle -yes, Earl Grey which is something I'm addicted to and needs to be used more in food dishes IMO- and the other was a Nutella truffle and I know I said I'm not a fan of Nutella but it was all liquidy and simply flowed like a velvet river everywhere. Needless to say I highly recommend their truffles.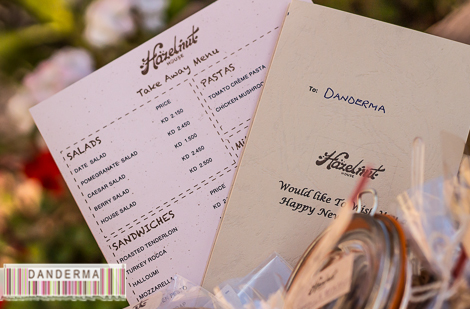 Hazelnut House are not only about hazelnut-infused desserts but they offer salads, sandwiches, pastas, and more! They have a take away menu but I don't think they do delivery yet. I'm so looking forward to trying their savoury dishes, judging by how good their treats are I know I'm in for a delicious meal for sure. Thank you Hazelnut House for this lovely basket of treats, you truly made my day.
Hazelnut House are located in Mezzanine 1 of KIPCO tower. They are currently in the soft opening phase so they are open from 8:30 AM till 7 PM on weekdays and from 9 AM till 7 PM on weekends. For more information and for orders you can give them a call at +(965)-22943211 or follow them on instagram (@Hazelnut_House).
Related Posts
---
2 Responses to "Häzelñut House Lovely Basket of Treats"