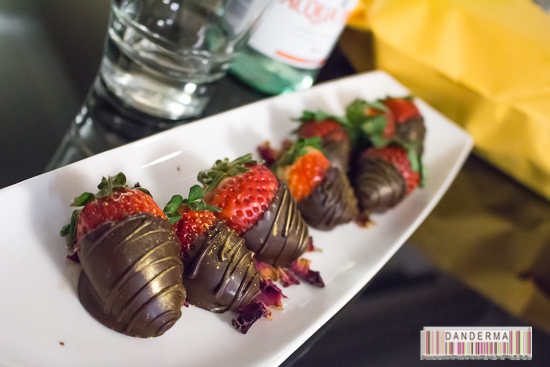 Before we boarded the plane to go on the #Room753 bloggers trip to Queensland, Australia and while we were preparing for the entry Visas, which are accepted online and done within 24 hours btw, we were warned of the very strict rules regarding bringing food or anything plant-related to Australia and that their customs are quite strict. I do remember watching episodes of the Australian version of Border Control on TV before -and I love those shows!- so we made sure we were food/medicine/plant/sand free before we boarded the plane. I was expecting a prolonged entry procedure at Brisbane's airport but we went through quickly, only were asked if we had anything food or medicine related on us, and we weren't searched at all. However, they did take us aside at the passport control and commented on why we seemed to have made so many trips to the UK before but it wasn't a big deal, we were out of the almost empty airport in no time and ready to begin our trip to Australia.
Once we were outside at the arrivals area we were met by the friendly Mr. Bruce from Limoso luxury limousine service which was arranged for us by Tourism and Events Queensland. Mr. Bruce welcomed us into Australia and took charge of our luggage at once, loading them into the car and driving us away into the quite Brisbane night.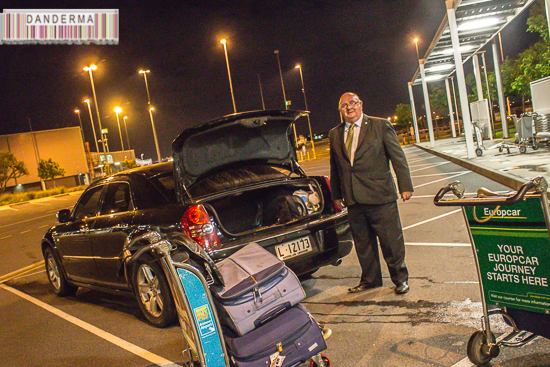 The limo was comfortable and cool, Mr. Bruce's driving was smooth and experienced, When Mr. Bruce saw my camera he asked if I wanted to be taken to a point with a fabulous view of Queensland River and glittering buildings. I was up to it of course, never missing the chance to watch a beautiful scene and with a chance of pictures being taken. He took us to a place called the Kangaroo point where I had my first good view of Brisbane's river and skyline.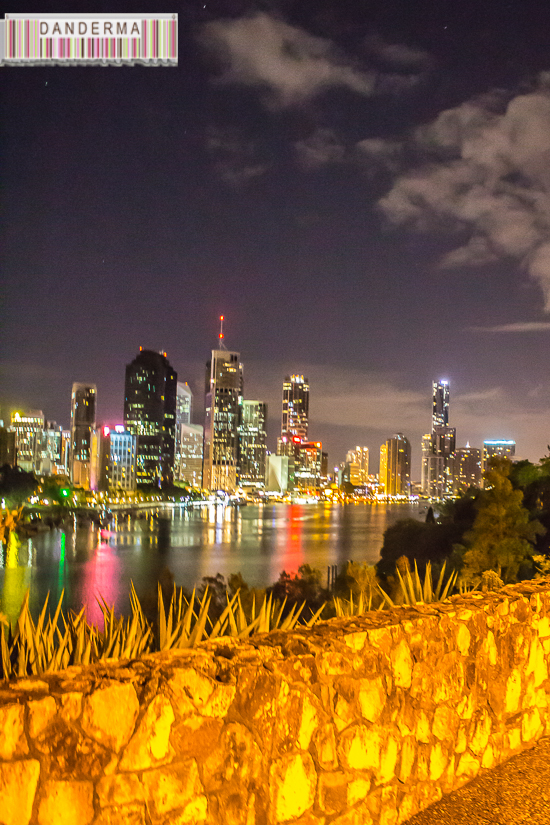 We didn't stay long, it was eerily quite and the breeze was cool but we were also in dire need for sleep so we headed to the car and minute later with Mr. Bruce's smooth driving we were at Sofitel Brisbane Central unloading the luggage and bidding Mr. Bruce farewell.
The Sofitel was lovely! All brass, softly lit candles, and artistic pieces everywhere you look. It took no time at all to check in and before you know it we were heading to our room on the 19th floor.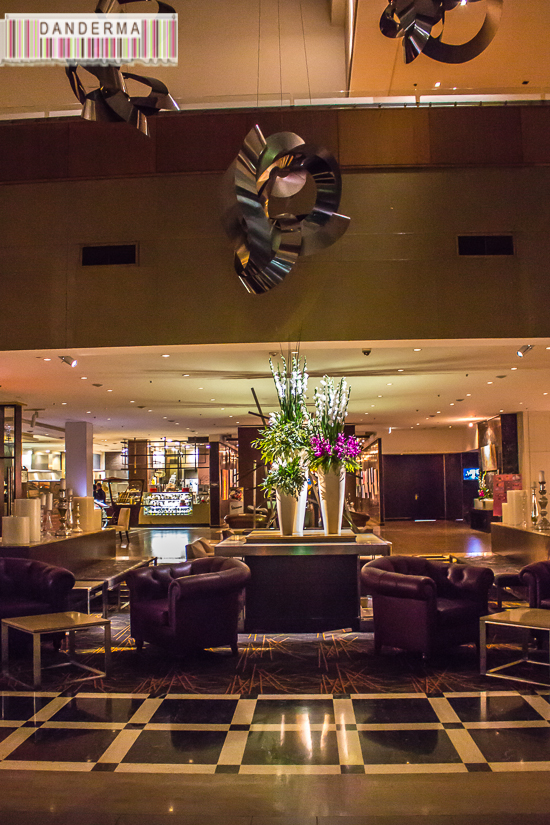 As soon as we entered the room we were met by a personal letter from Sofitel Brisbane's General Manager Mr. Marcus Hanna welcoming us into Softiel and next to the letter was a platter of luscious strawberries dipped in chocolate and a bottle of cold Aqua Panna water!
I didn't know it at the time but the welcome sight of those juicy red strawberries all dressed up in chocolate, edible glitter, and rose petals was the first of many gestures to come, from my stay at Sofitel all the way through my trip, as if the theme was to "spoil the visiting blogger" and that was the most rewarding and mind blowing theme ever! Those strawberries were just the light pick-me-up we needed before crashing into the comfortable king size bed and snoozing away till the afternoon of the next day!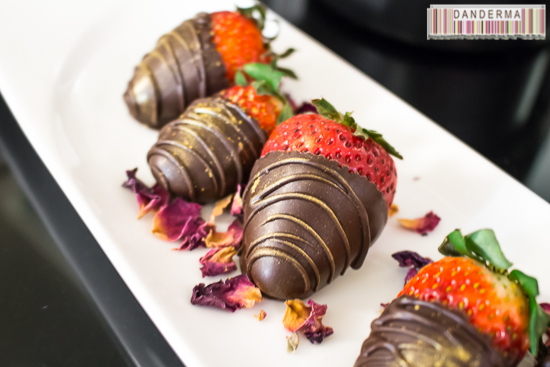 Oh and next to the strawberries there was a Nespresso machine and coffee pods, enough said!
Our room at the Sofitel, Room 1920, was spacious with two king sized beds that came complete with a pillow menu where you could choose the kind of pillow your neck desires. It was also modern yet warm, decorated in beige and purple and most importantly, spotlessly clean thanks to Bristi!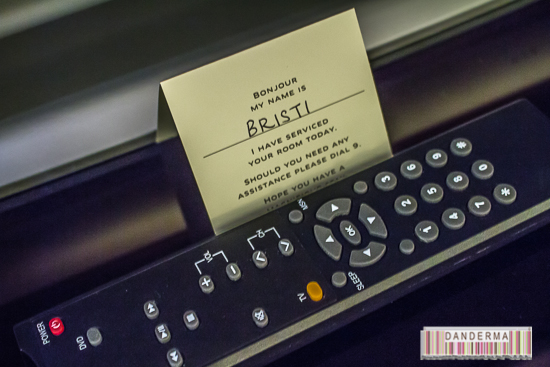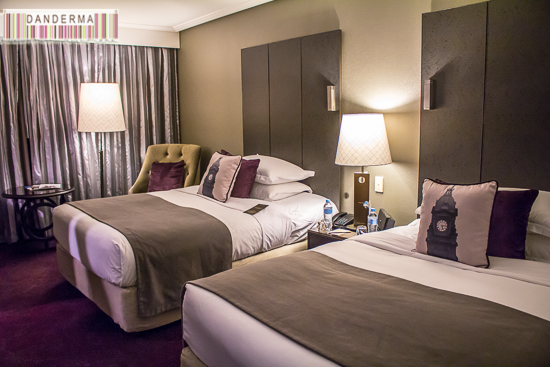 I almost stole those pillows and took them back home with me! They'd match my bedroom back home completely!
Room amenities included robes, laundry services, a safe, hair dryer, an iron, and more.
On the very night of our arrival there was a big envelope from Tourism and Events Queensland with our "welcome kit" inside waiting for us. It included a USB charger, an electric transformer thing we used throughout the trip to connect our electric chargers and cables to wall sockets, a very helpful and compact portable 4G WI-FI device from Telstra which provided speedy 4G internet access for us throughout the trip, and last but not lest a pre-paid VISA card that I was to use for transport and meal expenses for myself throughout the #Room753 trip. Very helpful and to the point connectivity KIT with clear instructions on how to uses everything and in moments we were all set.
When we woke up the next morning it was 11 A.M. and sadly the breakfast of the hotel ends up at 10 A.M., which is a bit too early to wrap breakfast up in my opinion but it seemed to be that way in almost everywhere in Australia. People rose up early and went to bed early, with most food establishments closing at 10 P.M.! We weren't able to have breakfast on the very first morning but we did manage to enjoy it on every other morning during our stay and it was simply fabulous. I love Hotel breakfasts <3
The breakfast area had big floor to ceiling windows that overlooked the clock tower of Brisbane's central station and Anzac square, two very important Brisbane landmarks. I especially enjoyed the greek yoghurt with fruits and nuts provided in the buffet plus the porridge, which I could use a bowl of right this very moment.
Because Sofitel is literally located on top of the Central station it meant easy access from within the hotel to the stations platforms. Plus, it was only a five minute walk away from Brisbane's main shopping street "Queen Street". We used the train only once but because our hotel was in a central location we walked everywhere all the time during our stay in Brisbane.
And because we walked everywhere it meant we always came back at night exhausted and ready to crash into bed, only to find the room fretted up for the second time -every night!- and two bottle of water plus two pieces of delicious chocolates waiting for us on the night stand. It was another nice gesture that made us feel both welcome and looked after, a home away from home indeed.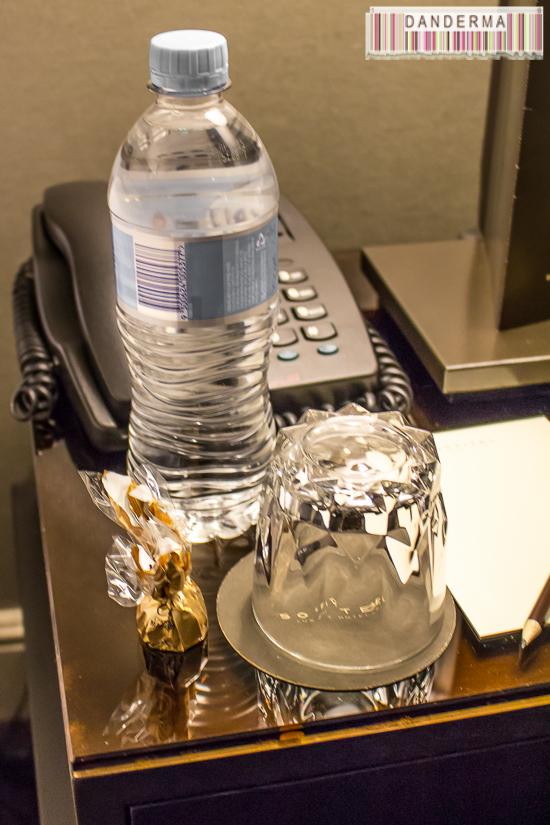 Another day we arrived home midday after a journey to a Koala sanctuary only to find this big box of fresh fruits waiting for us, needless to say not one little atom of the fruits were left behind, they were delicious!
I also used to enjoy the gorgeous view of the mountains out of the big room windows while sitting on this plush and very comfortable chair.
Examples of the view, especially during sunset! Gorgeous, no?
I was really sad when the time came to have my last breakfast at Sofitel Brisbane Central on the last morning of our stay. We were so pampered during our stay we felt like moving in and making it our home. Alas, all good things must come to an end one day and as we checked out Ms. Tegan Tranent, Sofitel's guest relations manager left a meeting just to say good bye and see us off to our next adventure during our trip. Thank you, Sofitel Brisbane Central, for the good time and very comfortable stay. When we come back to Brisbane one day and we cannot wait to come back, there will be no where else we'd rather stay at. Till we meet again.
---
2 Responses to "My Stay in Sofitel Brisbane, Australia"