buy Lyrica medicine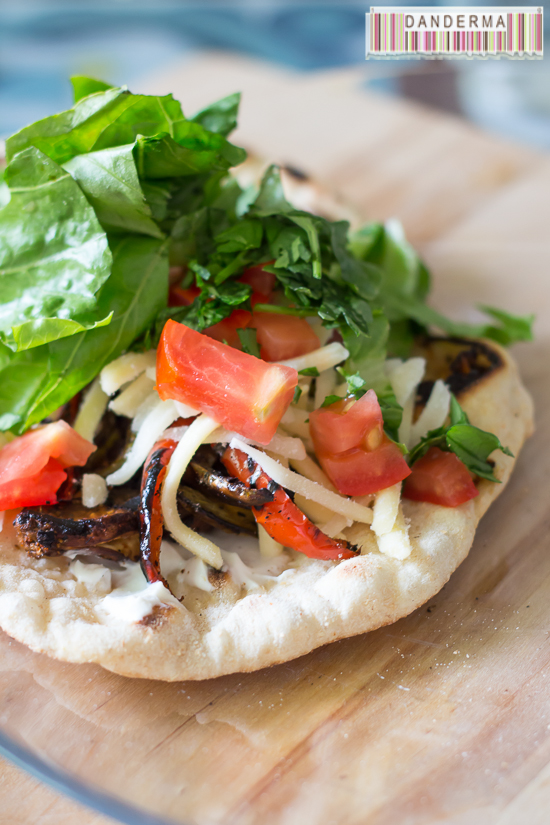 Fan of Mexican food? I absolutely am, in fact Mexican ranks second as my favourite cuisine of all times. Whenever I crave a fajita, a sizzling one with all the works, I usually head to one of the American franchises around Kuwait. However, since I'm trying to live a healthier life sans the excess salt, fat, and surprise spice that attacks my stomach mercileccily I began to make mine at home. This recipe must be the easiest, lightest, and quickest way to get a guiltless fajita fix.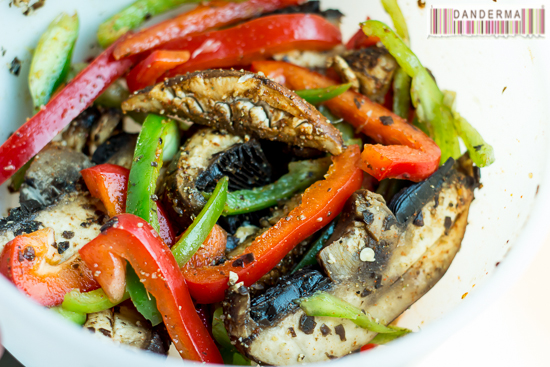 All you need for this recipe to work is a bit of prep, 30 minutes or one hour before cooking time would do. I had one giant mushroom in my fridge so I sliced it alongside some green and red bell peppers (capsicums) then mixed them up with the official fajita spices: smoked paprika, salt, pepper, cumin, and a generous dose of freshly squeeze lime juice -2 or 3 limes would do-. If you can tolerate heat then you must add cayenne pepper to the mix. Keep aside for 30 minutes until the flavours come together and start to prepare your tortillas and the rest of the ingredients.
Yes, you read that right, tortillas. I've come across the recipe for homemade wholewheat tortillas in Jamie Oliver's latest cook book "Everyday Superfood" and made them one day and since then I've never looked back, nor bought another plastic tasting tortillas from the supermarket again. They are so easy and quick to make and so wholesome and delicious. Simply mix 80g self-raising flour with 50ml water and some salt, knead a bit, then spread as thin as you can go and place on a hot griddle. I use my pancake pan.
By the time you get out your ingredients and set the table, your dough is ready and your veggies will be marinated. What's next? Grill of course! Get yourself one of those grilling skillets, spray with some water and lemon juice -no need for oil to be frank but its up to you of course-, place your veggies on top, and grill away! Imagine if it was winter time, and you were outside in a family BBQ? This would be the perfect vegetarian mix for your vegetarian friends who always feel left out at BBQ's!
If your grill becomes too hot and you need a bit of moisture, you can always add more lime or lemon juice. That way you can insure your fajita mix is as tangy as you'd like. Yum! Those bubbles below are lemon juice bubbles btw.
Meanwhile, the tortillas are cooking. Simply place them on the griddle or pan and watch them bubble and rise. Flip once, and then place on a plate, ready to be decorated with all the goods that make a fajita.
I realise the concept of fajita includes a sizzling skillet served at the table with the works, but frankly I didn't have the patience, hunger-wise and washing-after wise, so I simply assembled mine at the stove! First, I spread a generous amount of low fat labna on top of my tortilla. Yes, I use labna, and low fat, it tastes even better than sour cream and packs a quarter of the calories!
Top with the grilled lime-marinated veggies, if only there was a way to blog the heavenly smells of that dish. To turn this recipe vegan, ditch the labna and spread guacamole instead. To make this gluten free simply swap the wholewheat self raising flour with any gluten free flour of your choice.
What to add next as a topping? Well, personally I'd usually add black beans -from a can-, grilled corn, some salsa, veggies, and cheese but I was out of the corn, beans, and salsa. It didn't stop me one bit and the end result turned out both delicious tasting and lower in calories! I did add plenty of cheddar cheese, chopped tomatoes and lettuce, and instead of the traditional coriander I added parsley because, well, I cannot stand the taste of coriander. Growing up being forced to taste fish stew made with coriander put me off its taste for good.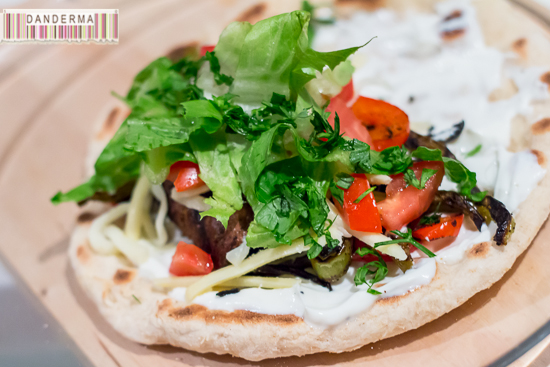 Et voila! My only regret is that I was to hungry and impatient to properly spread the tortilla dough until it was half as thick. It did taste good though. I also miss having some guacamole on top or as a dip. Sadly, I can no longer eat avocados anymore, thank's to some strange after-30 stomach allergy. I'd have made fresh and killer guac to go with these lovelies :'(
All lime-y and tangy and crispy and extremely fresh, it cannot get any fresher than this!
The burnt flavours of the veggies mixed in with the tang of the lime. How can anyone resist a fajita?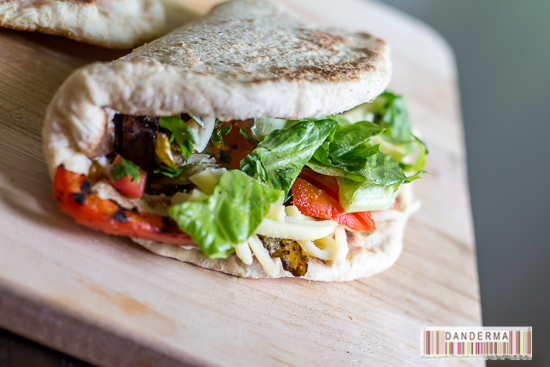 Can you see the crispy edge of the giant mushroom?
The entire thing will take you around 30 minutes max to cook an assemble, and five minutes to eat, not counting the marination time of course. You can prepare the veggies overnight, I think they might turn out even better if you do. You can use regular mushrooms -not canned!- but after grilling them you might end up with tiny slivers of cooked mushrooms, the giant ones will hold their shape and size and make the perfect veggie fajita stuffing. Now, excuse me as I prepare my lunch for tomorrow, any wild guesses on what it'll be? :p
---