Many companies and restaurants in Kuwait celebrate the arrival of the Holy Month of Ramdan by releasing special or limited edition flavours for their menu items. Earlier this week a big silver box from Chocolate & Macaron decorated with a huge lime green paper flower arrived on my door step. Inside were the new Ramadan flavours of their delicious macarons with a lovely white roses and tulips flower arrangement. 
I loved the greeting letter that came along with the gift, I loved the flowers, what I loved most however is the new Ramadan flavours of macarons and there were two of them: the Omani Halwa flavoured macaron -yes, inside is halwa omaniya- and the baklava -baqlawa- flavoured macaron. The third macaron in the box was their chocolate macaron.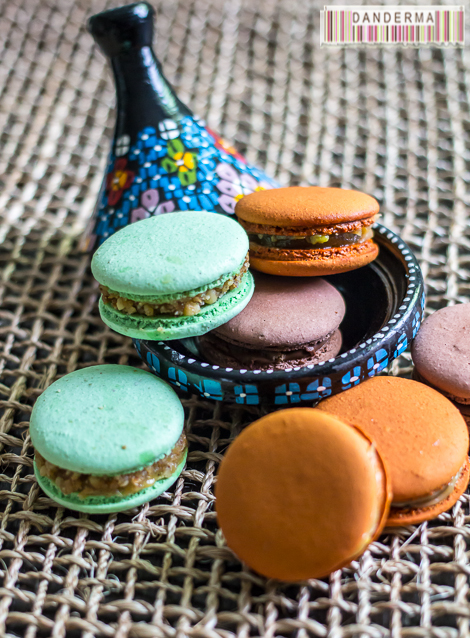 What about the flavours, did they taste good? Frankly I'm not a fan of baqlawa or pistachios or nuts, so the green baklava flavoured macaron didn't make me reach for more. It was very good and tasted like baqlawa indeed, the filling is smooth and soft and quite juicy, but it wasn't my favourite.
The Omani Halwa macaron is another story. As I write this post I can tell you that I've proudly polished off each and every piece of the halwa Omaniya macaron. When you pick up a piece of the orange-coloured macaron, your nostrils are hit with a pungent spicy aroma, cloves -mesmar- perhaps? Very unusual, and then you take a bite and the gooey smooth halwa texture melts away and as the sweetness of the halwa invades your sense, you know you are in big deep trouble.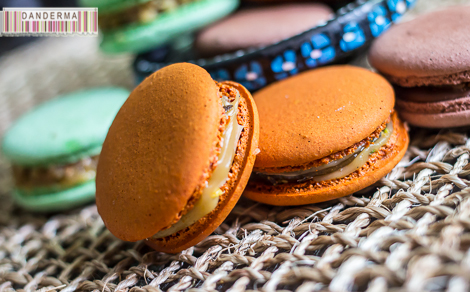 Yes, it tastes as good as it looks if not a little bit better. Old and new, modern and traditional.
The crunchy texture of the macaron against the smooth texture of the halwa with a little pistachio to crunch on as a surprise from bite to bite really works! It tastes so good, you cannot stop yourself from reaching for a second, or third, even a fourth macaron. Quite addictive I'd say and not very diet-friendly. However, you have to be a fan of halwa to appreciate this macaron. If you are not a fan of halwa you might not appreciate how good the macaron is.
Thank you Chocolate & Macaron for introducing the Omani Halwa macaron to my life and for sending me the new Ramdan flavours of macaron to try. Akramkom Allah o mbarak 3laikom el shahr

Chocolate & Macaron new Ramadan macaron flavours are now available in their many branches around Kuwait. For more information you can visit their facebook page (link), follow them on Twitter (@ChocoandMacaron) or instagram (@ChocoandMacaron).
---