existentially
Back in December the much loved and very popular Turkish cafe Mado finally opened its doors in Kuwait. The opening followed a long period of anticipation on instagram with many devoted followers asking about the opening date. I was travelling when it did open, early December 2014, and I've heard a lot of mixed reviews about it all of them advising me me to wait a bit until they get on their feet and ran things smoothly.
So I waited. I waited until last week which makes it about a month since they've opened. I've had other friends go in that very week and they told me it was fine, delicious with much better service. Therefore last Thursday to celebrate the arrival of the first weekend in 2015 I headed to Mado Cafe located in Al-Bidaa strip with many a delicious dreams tackling my palates.
Unquillo
Last Thursday was quite a freezing winter day but the outdoors setting of Mado was so beautiful, open space dotted with green all around, and I couldn't help but choose a table outside. At 3:30 P.M. it wasn't really that crowded and we had no problem being seated immediately next to a big fiery heater.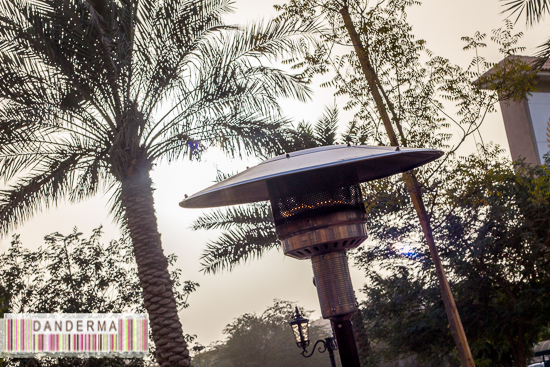 The menus were handed to us in an instant, the service so far was very attentive and prompt. By that time I noticed two tables, one with a couple and another with a family, putting down their menus and leaving and I was baffled. I tried leafing through the menu, only to find a large portion of it quite sticky with pages that seemed glued to each other. Could it be that my menu was so dirty the pages were stuck like that?
When I began to pry open the sticky pages by force our waiter ran to me and explained that these pages were actually glued together because they are the pages with the meats and grills dishes and that they were out of them today and will be serving them tomorrow! So that's why the people on the other tables were leaving! They came for lunch only to find there isn't much to lunch on! Personally I found it quiet weird that a restaurant should run out of meat dishes on a Thursday but have them available on a Monday -my friend was there- and a Friday! Why glue the pages like that then? I wasn't sure.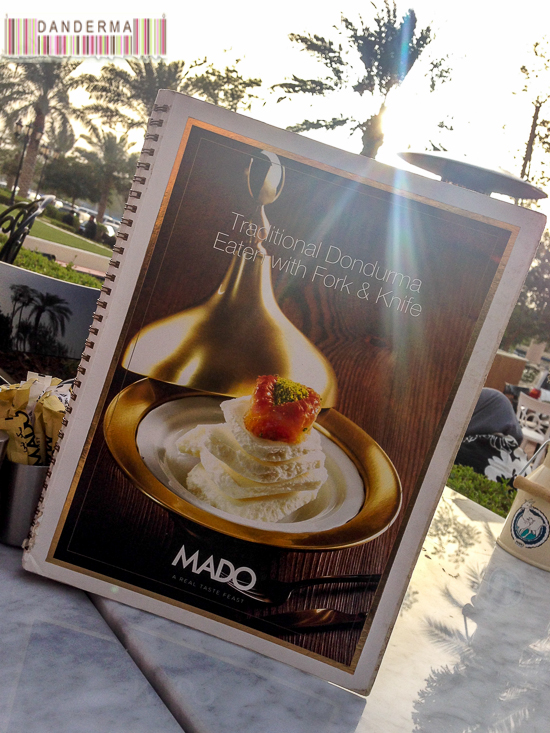 When we heard there wasn't much to choose from for lunch, and when I saw everyone around me order either salads or desserts, I was about to leave as well. To be frank, I was so tired after a long work day, too cold,hungry and didn't want to think about something else to eat somewhere else and all I wanted was something to eat so I asked them if they would still serve their breakfast and they said yes they did! I ordered me the biggest breakfast, similar to the one I had in Dubai's Mado, and was once again happy and content.
So should we call my meal a brunch? Is it real brunch if you go for lunch at 4 pm ready for lunch but end up ordering breakfast because they were out of many a things on the menu? I don't suppose so, hence why I said Breakfast and lunch in the title of this post. My hungry husband wouldn't settle for breakfast though and he insisted on ordering anything lunch-y so he went with the lentil soup and it was the first to arrive.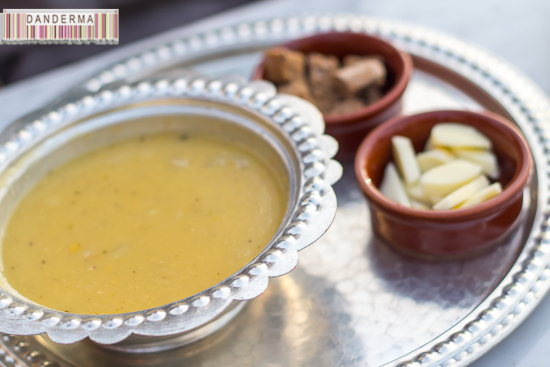 The soup comes with little bowls of melty Turkish cheese and bread cubes. My husband said the soup was really lovely and was just the thing you'd need in that freezing afternoon. I don't drink lentil soup so I wouldn't know myself but I did try the cheese and it was lovely.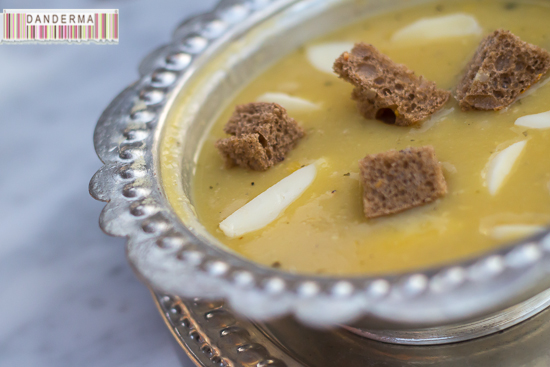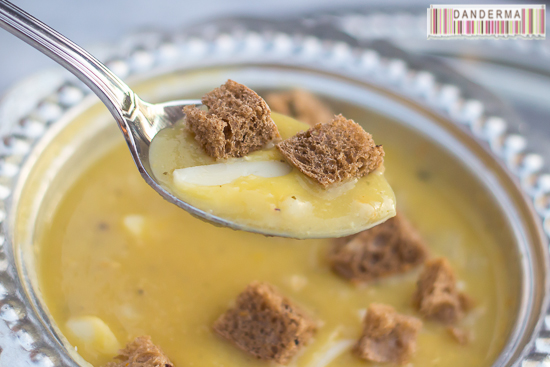 Thankfully my breakfast order came with a bread basket so we had three loaves of piping hot bread to snack on with a little pot of olive tapanade while waiting for my breakfast. There was no Simit, the Turkish pretzel-like bread dotted with sesame. The same thing happened in Mado Dubai, they didn't have Simit on the two days we dined there.
For drinks my husband ordered the Ayran Laban, or buttermilk drink.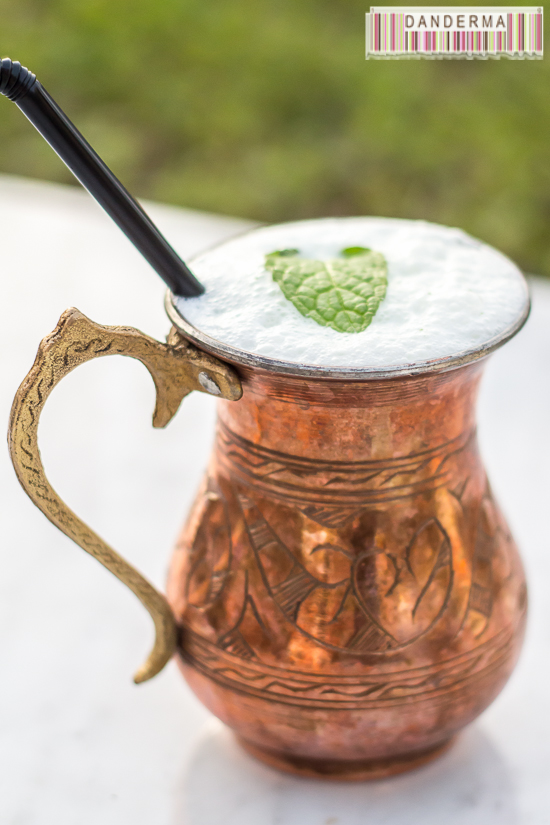 I had a sip and it was cool, quite minty, and refreshing but in my opinion not a winter drink, more like a summery one. My husband didn't care though and enjoyed his drink to the very last drop.
I didn't order anything to drink because I thought my breakfast tray was served including three little Turkish tea cups (estekanas). When I went over the menu afterwards, I found that the breakfast tray in Dubai came with three tea cups while the breakfast tray in Kuwait didn't and I had to order my own tea! It didn't matter though, to Mado's credit the waiter came with a small cute tray of tea with a tiny rose and a little cheese pastry and offered it to me, complimentary, because it was a cold day and I needed something hot while I waited. They even brought me a refill when my tea got cold in a completely new tray with a new nutty pastry.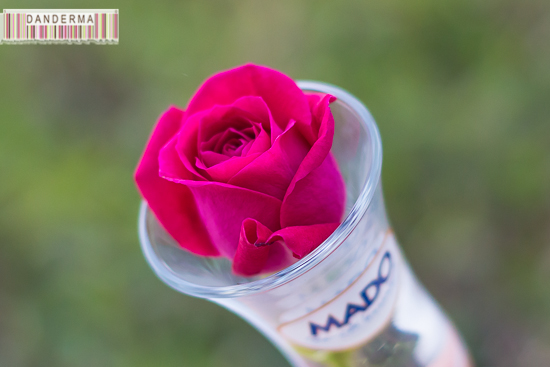 Because my husband insisted on having whatever they had available for lunch, he did order the Mado Manti, which is about the only thing that was available on their menu with meat that day. The Manti is a cousin of the ravioli, little dough pockets filled with ground meat and topped with tangy yoghurt.
I did dip a piece of my bread in the yoghurt and it was really delicious. By that time all I had in me is two cups of tea and bread and I was almost shaking from hunger and the caffeine and sugar. My breakfast tray seemed to be taking forever to be prepared but that's probably because it wasn't breakfast time.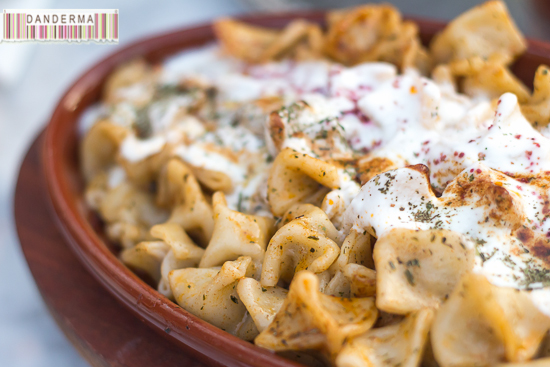 And then my tray was there! Finally!
A platter of Turkish cheese with veggies, small pots of olives, butter, jam, tahini, honey and clotted cream. A small pot with sausages, and another with a fried egg.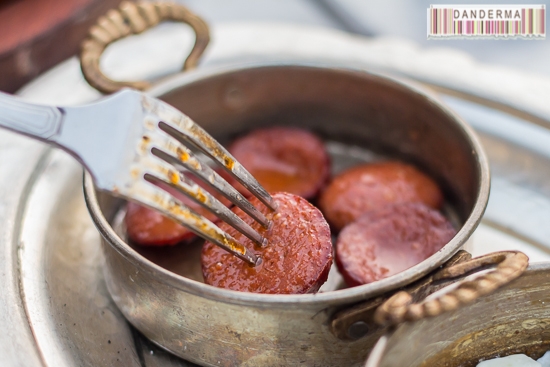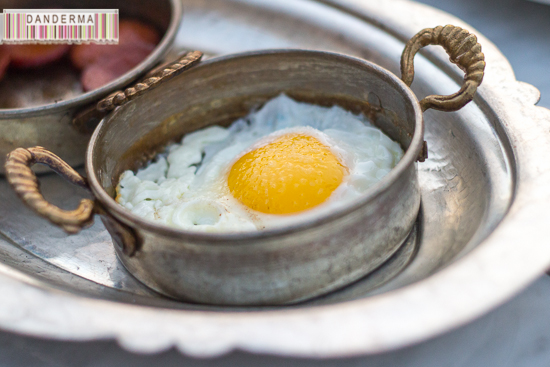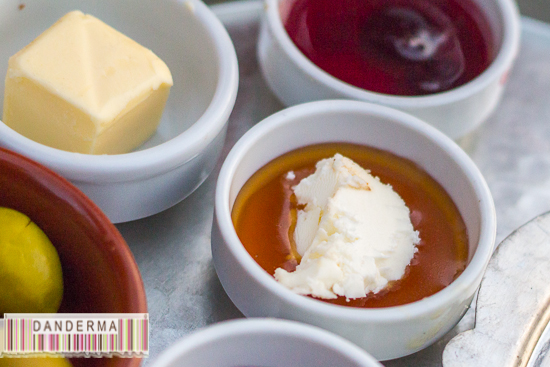 How was my breakfast? Delicious, but was missing a few vital elements! There was no halloumi cheese, and the pastrami was missing -thankfully-. Also, the breakfast included one cube of cheese bureek which is made of layers and layers of pastry and tangy herby cheese and is so delicious and I so wanted to have it for my meal!
No halloumi, no bureek, no pastrami, and no one even apologised for their absence. We didn't bother asking after them, most likely they'll tell me they are not available. I've also asked them to swap the cherry jam in this breakfast with the strawberry jam in the other breakfast tray available in the menu and they told me that wasn't possible. I hate cherry jam, and cherries, and anything cherry flavoured. The breakfast tray in Dubai came with a gorgeous rose jam, why does it come with a cherry jam in Kuwait? Who eats cherry?!
I also don't eat sunny side up eggs and there wasn't an option of having the eggs scrambled. In a nutshell, my husband ended up eating 3/4 of my breakfast tray.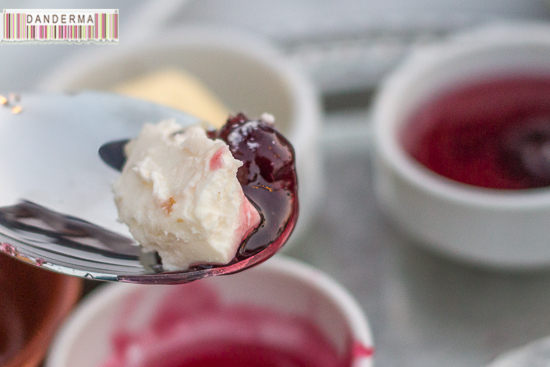 By the time we were finished Mado was crowded again, probably because it was tea time and people would stay to have dessert with tea and Turkish coffee. I wanted to have dessert, but was afraid they'd say everything was out. We tried our luck and ordered the "Cheese Burma Kadayif" which is like a vermicelli kunafa only twisted tube like rather than being spread on a tray. It came with a side of dondurma, Turkish ice cream and yes a relative of my blog name Danderma.
I have to say that the cheese burma kadayif was divine! So fresh, crunchy, juicy, sweet, cheesy, and absolutely delicious! If there is one thing to have in Mado's menu, it must be this cheese burma kadayif. You do NOT want to miss it, we almost fought over the last dondurma soaked vermicelli morsel left in the plate.
Our check came to about 17 KD. Not bad at all for a full breakfast tray, dessert, soup, and a main dish.
Is Mado Kuwait worth the wait? Well the location is gorgeous, the service is very friendly and prompt. The food does seem to be delayed a bit and the fact there wasn't meat that day was a bit weird but I suppose with time these kinks would smooth out eventually, you might want to give them a call to ask about dish availability before you head out for lunch or dinner. However, Mado will always be busy, will always be crowded, and I do see myself going back only on a full stomach to enjoy desserts while in a garden-like setting rather than risk waiting for my food on an empty stomach. I can totally see myself enjoying a cheese burma kadayif in Ramadan after iftar, sipping cup after cup of delicious Turkish tea.
Mado Kuwait is located in Rimal Resort, Al-Bidaa. For more information you can check their instagram account (@MadoKuwait) or check their website (link).
---