buy line Seroquel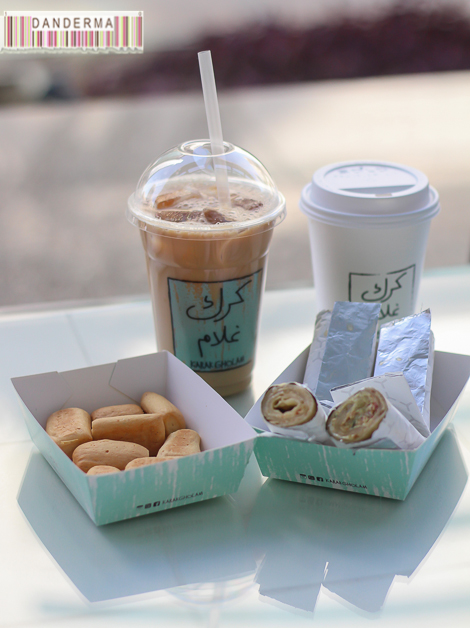 My friend and fellow blogger Ansam has been busy lately. A couple of weeks ago she  finally was going to share her love of food with the rest of us with the launch of "Karak Gholam", Kuwait's newest Karak cafe where Ansam is a co-owner. Karak is a drink that's basically tea, milk, sugar, and Indian spices cooked together. Rather, its the equivalent of a spiced chai latte and I'm not sure if Karak is the official Indian name for it but its been forever popular in neighbouring GCC countries like Qatar and the UAE and is currently taking Kuwait by storm. 
The new Karak Gholam cafe is located in Dar Al-Awadi complex in Sharq area of Kuwait city and you could make your way there blindfolded for the tantalising smell of cardamom can be found wafting throughout the ground floor, leading shoppers to doors where the Karak is being brewed.
I have to say when I first walked through Karak Gholam's doors I didn't expect it to be this spacious or this ! The design of the place is modern indian meets industrial and it's quite hip and lovely which exactly reflects the ambience of Karak Gholam's: relaxed, traditional comfort food in a modern trendy surroundings.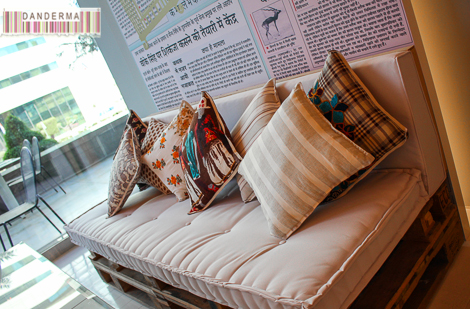 Check out the sofa, it's made of wooden crates! Very cool!

When you are at Karak Gholam you go to the counter and place your order directly. The menu is very straightforward is mostly of popular Indian street food that's is well loved and quite familiar in Kuwait. Chapatis with different fillings, pakoras, samboosas (samosas) and of course the one and only Karak drink.
There are also different pots of desserts as well as chapatis stuffed with Nutella.
You can also see big pots of karak being brewed and the karak is prepared right then and there. The karak must be poured from one pot to another several times for some reason but the end result is a well balanced drink flavours wise. I suppose this method insures maximum spice and flavour infusion with the milk and tea.
If you are lucky then Gholam himself will come out of the kitchen and greet you. He is one funny character. Its all about charachter at Karak Gholam's, even the battered tips box has character.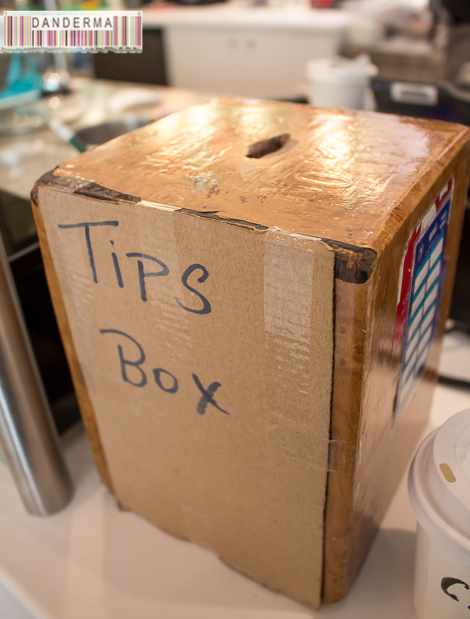 After you place and pay for your order you are handed a little metal number you could place on your table as you wait for your order to arrive.
Not that you will have long to wait, but you can spend your time checking out the merchandise display of different small businesses in Kuwait at Karak Gholam's.
You could also read other diner's funny comments or add your own to the wall.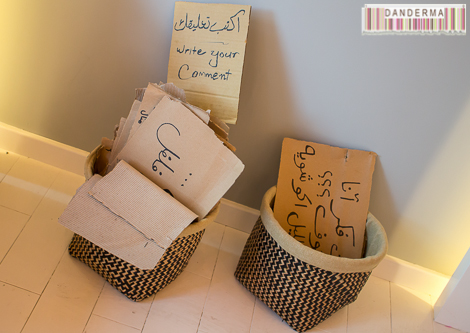 Its not long before your order does arrive. The first time I've been at Karak Ghulam we chose to sit outside overlooking Ahmad Al-Jaber street. The weather was awesome and the food was excellent. The first time we were there for breakfast we ordered one small Karak, one iced Karak, one falafel chapati, one Nuttella chapati, and one order of baqsam which are little hard biscotti usually dunk in tea with milk for breakfast or a light dinner.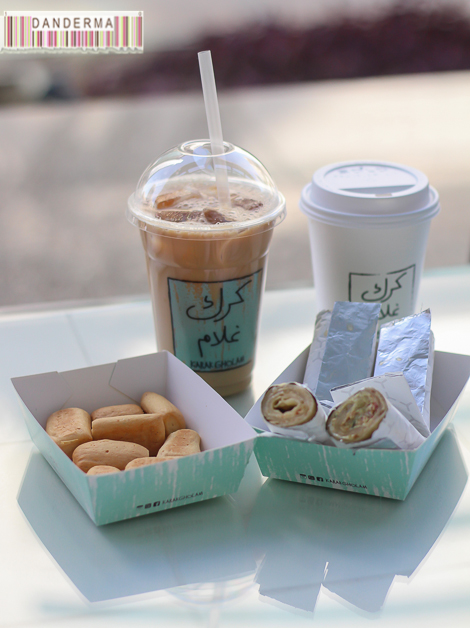 All chapatis are surprisingly light and not oily at all. The size of one chapati is perfect for one woman dining, not too big and not too small, and usually comes cut in two halves.
The falafel chapati is lick-your-fingers-good! You could tell there is a very light layer of Kraft cheese spread inside the chapati before being filled with the falafel mix and that gives it both a flavour kick and a bit of heaviness as well. Personally I'd order my falafel chapati without the Kraft spread since I like my chapati less heavy but do try it as it is the first time and decide for yourself. It's not to be missed!
The Karak was good and well balanced, perfect for a rainy day where all you want to do is sip something warm and sweet while you watch the rain fall. However, the real heartbreaker was, surprisingly, the iced Karak! It's out of this world and something else entirely! I literally finished my ice karak and ordered another one, that's how good it is and now as I'm typing down this post I'm seriously craving it and wishing I could have it for breakfast. Would you start delivering already?
I was enjoying my time so much I didn't want to leave but eventually when morning turned into noon and the place was getting busy we had to go. I've been back again, the taste of the iced karak wouldn't leave my palettes alone, and when I did I found the place so crowded masha2 Allah I took my food to go. The next time around I tried two of Karak Ghulam's desserts: the Oreo cheesecake and the berry & vanilla panacotta.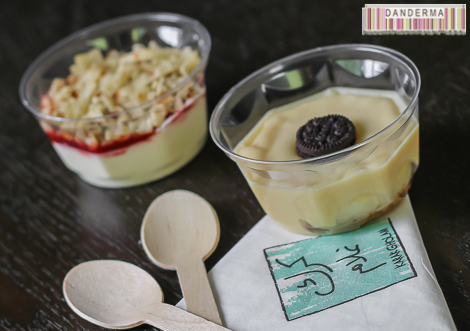 After a lunch of falafel chapatis and iced Karak it was time to try the desserts. I have to say I was quite disappointed with the Oreo cheesecake. It was quite dense and grainy and there was no Oreo taste what so ever. It was like the cheese layer was actually sweetened condensed milk cooked for too long. I wouldn't recommend it at all but you might like it if you want to try it.
The berry & vanilla panacotta was another story! We literally fought over the panacotta pot -the cheesecake lay forgotten- and it was so good I almost licked the pot clean after it was done. It was cool, sweet, and chockfull of vanilla beans swimming around the berry particles. The panacotta was topped with toasted shredded chapati bread which added both flavour and texture to the dessert, awesome!
The panacotta was the 3rd lucky strike at Karak Gholam and now I'm officially smitten and it's not because my friend is co-owner. You wouldn't think something as simple as Karak and chapati would have you craving meals this badly and the best thing is, the food is not heavy at all and many items finish quickly so be there early. I'm yet to try their samboosas but they were always out of them. If you pass by Karak Gholam and you're lucky enough to find a table you'll find Ansam behind the counter smiling as she takes your order, way to go dear Ansam, I'm proud of you and I cannot wait to see what more you'll have in store.
Karak Gholam is located in the ground floor of Dar Al-Awadi in Sharq, Ahmad Al-Jaber street, Kuwait City. For more information you can contact them by calling +(965)-22322286,  or following them on instagram (@KarakGholam).
---
6 Responses to "Breakfast at Karak Gholam"