buy stromectol in uk
Aurogra online no prescriptions required from the US I wasn't having a good day yesterday, I wasn't that feeling well. However my spirits were lifted and my mood transfored BIG TIME when I saw this on my coffee table.
What's this you say? Technically its what we call "9efer6as" in Kuwaiti or a stacked Bento lunch box in English.
From who? Fortune Cookie Boutique.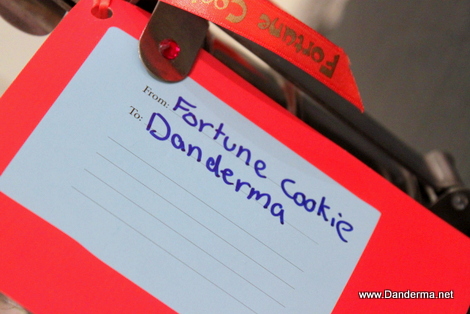 What is Fortune Cookie Boutique? A very hip online store that opened their first branch in Olympia mall. Their stuff is very cool and trendy. This clutch I got from them the last time I was there (post).
What's inside? Lets open the 9efer6as now, shall we? The first layer had the store's card.
And this is the back of the card, the Event invitation.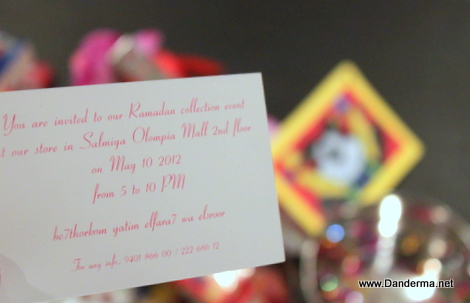 Yes, this entire bogsha is an invitation to the unvieling of the Ramadan Collection at their store -a zoo'3a land on its own btw-. Below the invitation card, comes the cookie… Recogonize the guy?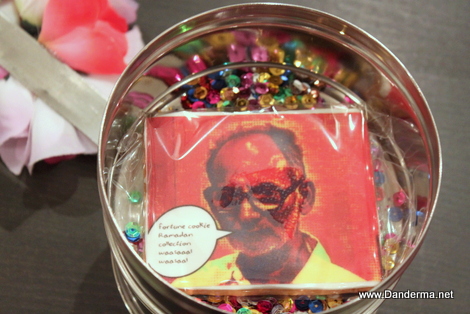 Ramadan collection wasaal wasaal! Looool!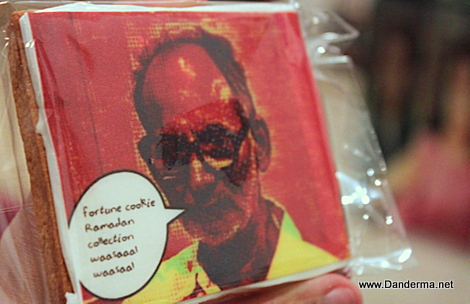 For the min wain lovers. Little treats by the way is one of two favorite local cupcake bakeries of mine in Kuwait.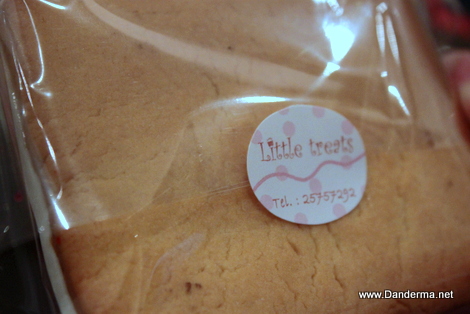 Ana 3abali khala9na. Innovatinve packaging, a cookie, colorful sequins and the invitation card. Mako shay b3d. As I was packing the 9efer6as up I thought to myself "Could there be something else? Don't think so but lets take a look".
Oooh this is crazy! Shino hatha! What a treasure! With a personalised gerge3an song sang for me :')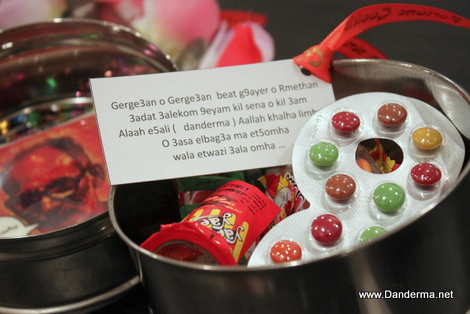 My childhood's candy! OMG! I feel like I've stepped into a baqala in the mid 80's!!! Right up my alley! And this… AUUUUGH! This tube will have a post on his own! Where did u find this?!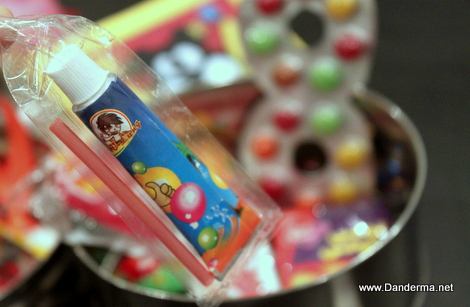 Memories memories memories! Shakhbary the Burger Candy!? Still there?
I remember when the Burger Candy first came to Kuwait, right after the liberation 1992 maybe? The baqala that used to sell it was called Edhbaya or something and right next to KES in Salwa so when we picked up my siblings from KES they would insist on going there and buying this candy. We were crazy about it!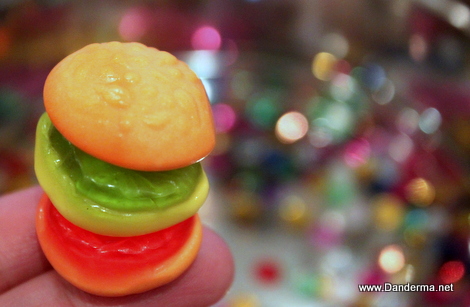 Oooh do you remember this one? So electrifying!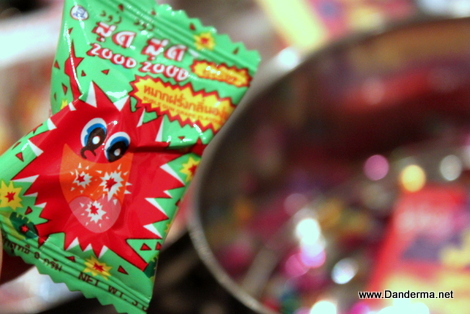 7alawat elrawtha! In the five days I've actually been to kindergarten in Kuwait I remember this lollipop being handed out to us when we were good 😀 Its one of my favorite lollipops -that and Chupa chups chocolate and milk one :p-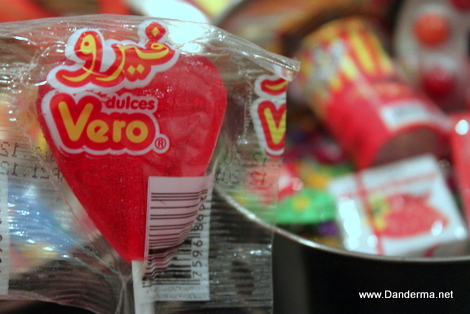 Remember this gum? So tasty and you can eat it in three big bites :p I must have swallowed hundreds of little boxes in my childhood :p
And this tiny chocolate <3 Why is it that they only use a few biscuits and too much chocolate? We need more biscuits, kella ykhal9oon ebser3a :'(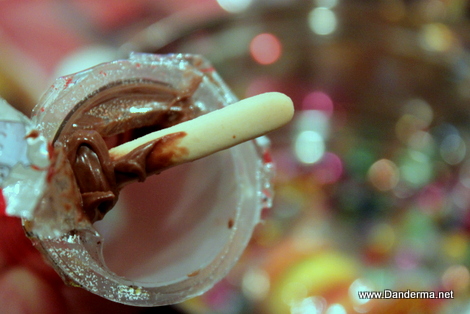 Jelly Cola! Bombom's Jelly cola b3d! You'll understand bombom if you grew up reading majalat mickey, the Egyptian one 😉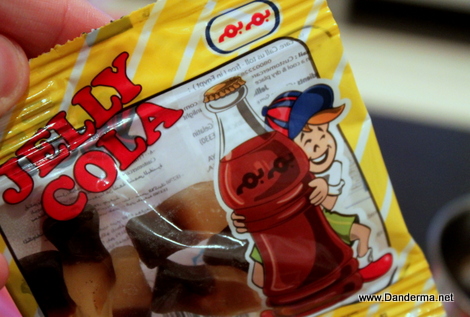 Oooh Fruit Pastels! My all time favorite candy! Btw now that I am a grown up I dislike all types of chewy candy, more of a dark chocolate truffles kinda girl, but this one is an exception to that. My favorite candy of all time <3
I will leave you with more pictures. Yes I stayed up all night taking pictures of the invitation while munching on the goodies inside :p I felt like a kid again and if you know me, you'd know how important that was to me and how happy it made me. If I had a kid I'd probably copy this idea for his Ramadan Qerqe3an!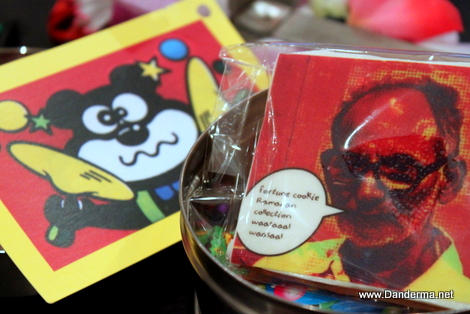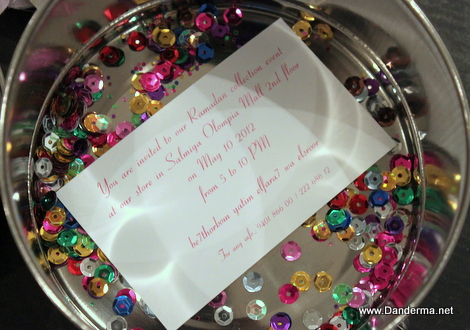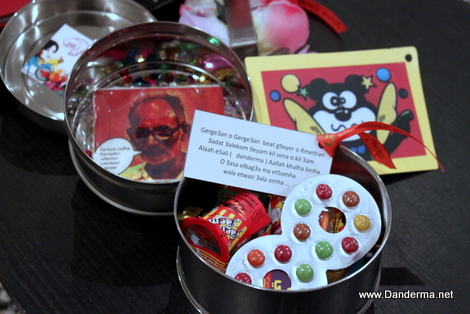 Fortune Cookie Boutique's Raman collection will be available starting tomorrow Thursday 10 May at 5 PM. Their store is located in Olympia mall. For more information you can shop at their online store (link) check out their facebook page (link) or contact them via Twitter (@FortuneCookieQ8) or Instagram (@FortuneCookieQ8)
Thank you Areej Al-Kharafi for the most beautiful, most nostalgic, most delicious invitation I've ever seen :*
---
8 Responses to "Fortune Cookie Boutique's Invitation… Zoo'3a!"