http://dardogallettostudios.com/blog/2014/06/06/alejandro-barrientos-rosalia-gasso-tango-workshops-july-27/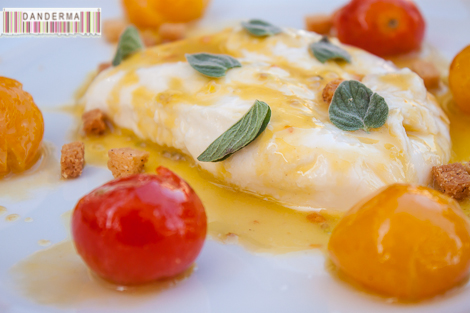 Since the good weather doesn't seem to be going anywhere soon we decided to have a good lunch outdoors. We thought long and hard of the perfect place to enjoy the weather, the atmosphere, and most importantly the food and finally drove down to Spoons Complex to have lunch at Pizzetta. We were thinking of ordering our old and usual favourites, which include the Truffle and Fontina pizzetta I'm very fond of and was craving then.
We took a look at their menu and they had a lot of new dishes! I think I need to go back there twice to try all the new dishes on the menu. We started by the Boston salad above with grilled mushrooms and cherry tomatoes on a bed of greens. There were two new burrata dishes on the menu I wanted to try and the one I finally chose was the "Half burratta with apple and orange vinaigrette". Burrata is an extra creamy variation of mozzarella cheese, sometimes made with buffalo milk.
Arrived the lusciously creamy burrata cheese, half the usual portion, doused in a very different very delicious orange apple tangy sauce. The dish is very vibrant, very fresh, a new favourite of mine and highly recommended if you are a fan of orange flavour in your savoury food.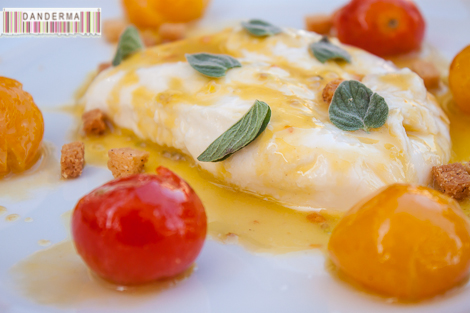 Next arrived our dishes, a trio of different pizzetta's that were gone in a blink but I couldn't not take pictures of my favourite Truffle and Fontina pizzetta. I believe Fontina cheese is the best cheese to ever make it as a topping on any pizza and it goes well with all types of mushrooms, especially truffles or porcini.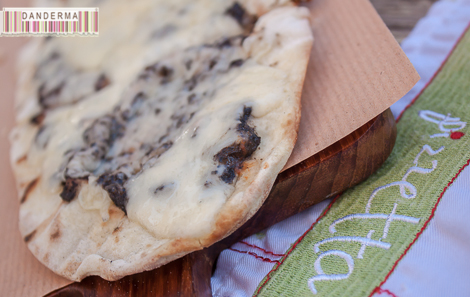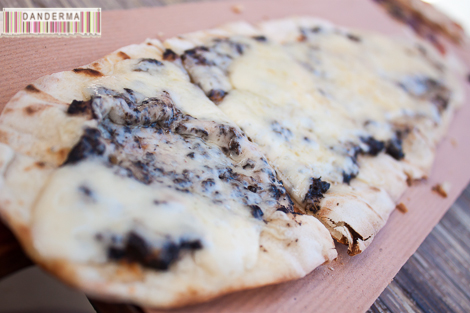 Come on now delicious, let me eat you…
Pink Spaghetti. Actually on the menu its pink fettucini but I requested they change the pasta to spaghetti since I was craving it.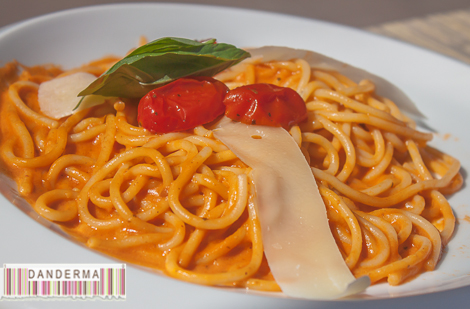 And a delicious mushroomy creamy ravioli stuffed with more mushrooms and cheese. There is nothing more heart-warming than a big plate of stuffed ravioli in rich sauce.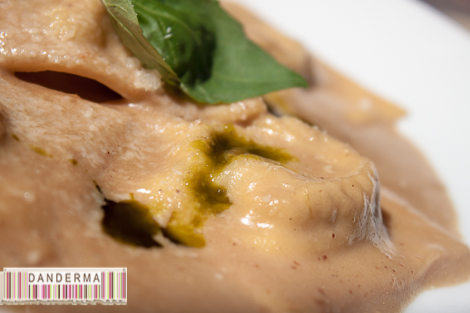 The best thing about Pizzetta's new menu is the "Gluten Free" options included inside the menu itself and not in a separate menu that you have to ask for. Many of their pastas can be gluten-free and many of their dishes are gluten intolerance friendly. We had a great lunch under the warm sun in the cold breeze that weekend. I love the new menu and I can't wait to try more of their new dishes, especially that other burrata cheese dish.
Pizzetta's has three branches located in Al-Bidaa, Al-Seif, and Spoons Complex. For directions and more information you can check Pizzetta's website (link), follow them on Twitter (@Pizzetta_) or instagram (@Pizzetta_).
---
8 Responses to "Weekend Lunch at Pizzetta"