Sakakah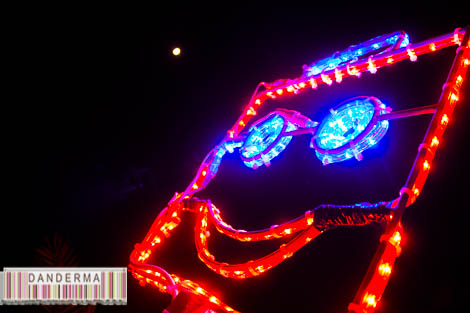 Every year during February some of the residential areas put up a few festive lights to celebrate the occasion of the National and Liberation days on 25 and 26 February consecutively. The most spectacular lights are the ones usually found in Ahmadi City but this year Ahmadi has a strong contender: The Festive Lights of Al-Rawda Residential Area!
forzando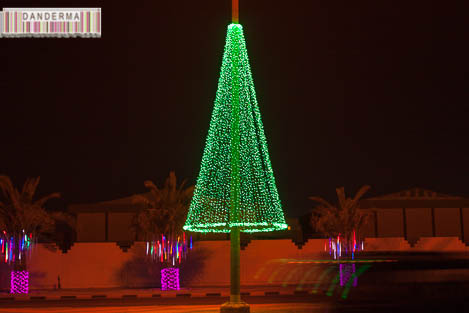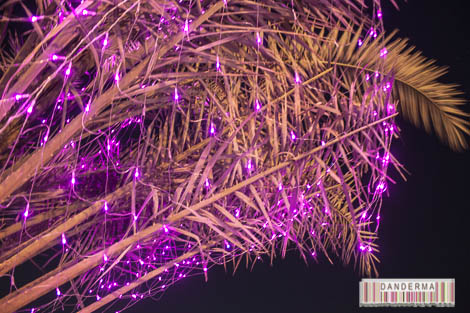 I've heard a lot about Rawda's lights this year, how extravagant and stunning they were. Therefore I took my camera and headed there with my friends yesterday and I have to say, the moment I took a turn into Rawda from 4th ring road and saw a cluster of lights, I was awe-struck!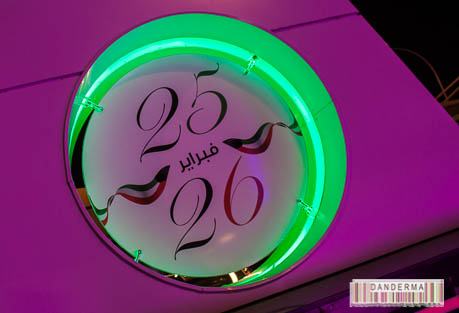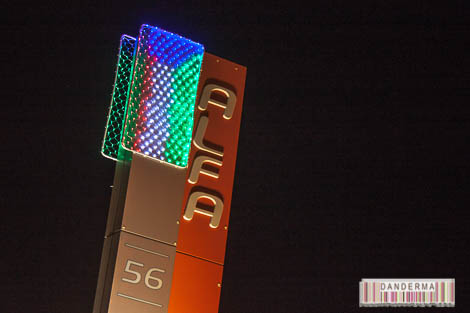 As I drove further into Rawda, the dazzling lights around me made it impossible for me to concentrate so I parked at the first possible parking space I could find, grabbed my camera, and headed out. First, I took about a hundred photographs of this smiling fellow which is also the mascot of Al-Rawda Co-Op and on its logo.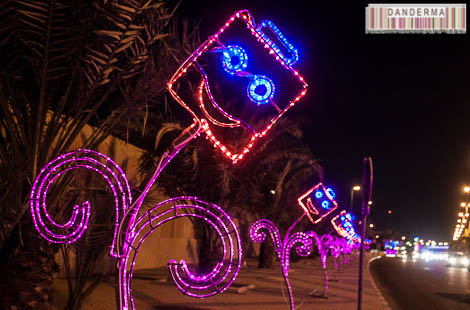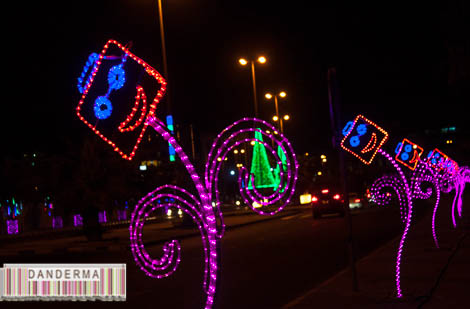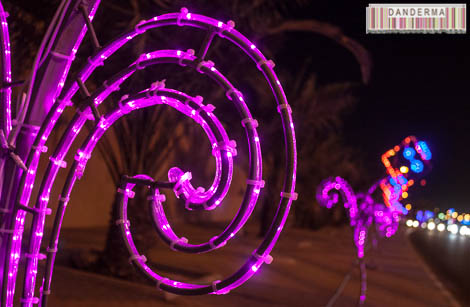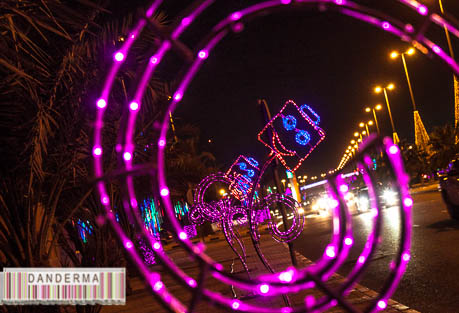 Can you see the moon? It's the shining white dot in the two pictures below!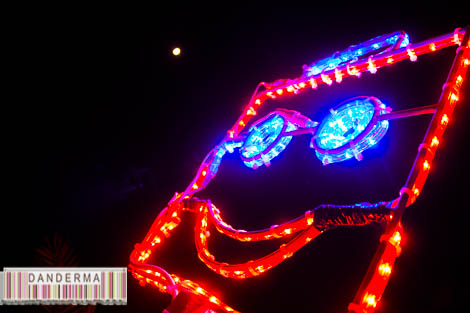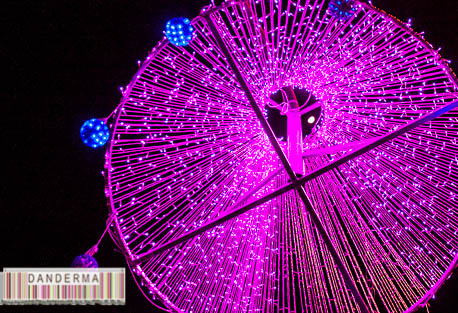 This lights display spelling Kuwait was very popular with drivers. It took us a very long time trying to get a decent shot without people parking besides it, getting out, and posing. My best shot is spelling Kuwait backwards but this is what I could photograph sadly.
Next stop: the palm trees! They were decorated by long colourful beams of light that strongly reminded me of the Jedi swords from Star wars! Another hundred or so photographs, none of them truly captured the beauty of those lights or the happy feelings I felt while looking at them.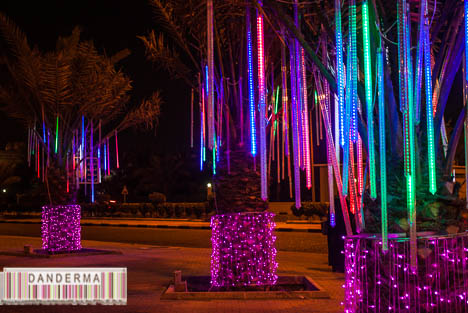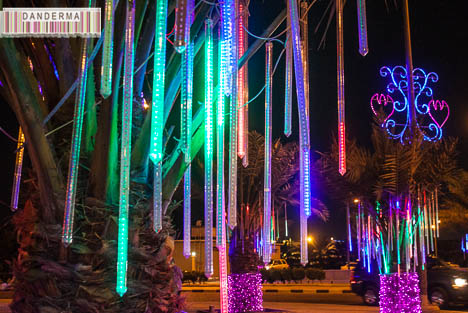 As I was taking pictures of the palm trees, I noticed the pedestrians's bridge! The lights were beckoning to me and of course I walked over there, for the first time in my life if I may add.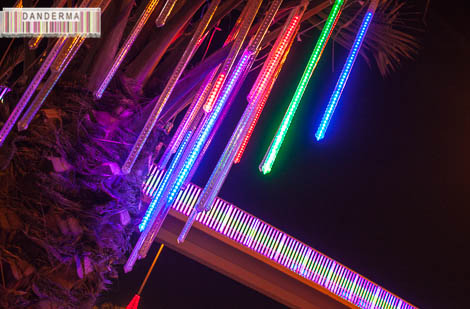 The walk up the bridge wasn't easy, I now understand why pedestrians are always running to cross roads. They are tiring to climb up but I suppose would make a great workout. The bridge itself was a blaze with lights and colours on each side.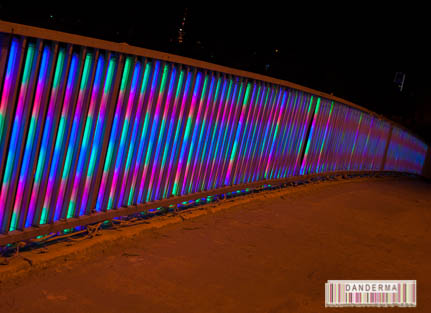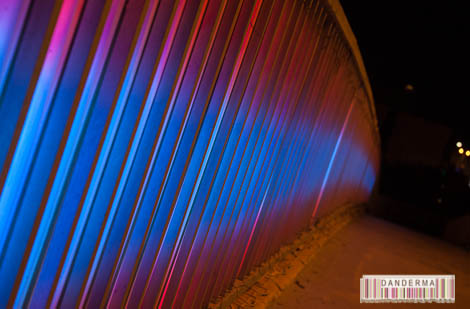 The view was worth the climb. If only I knew how to take better photographs at night! I need a photography course, desperately.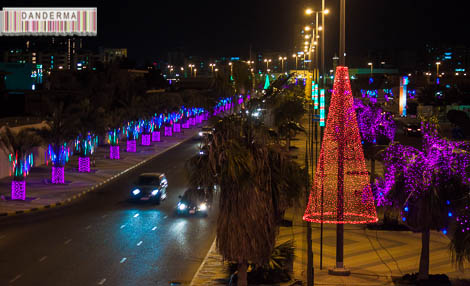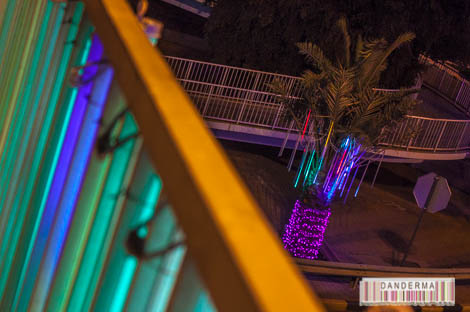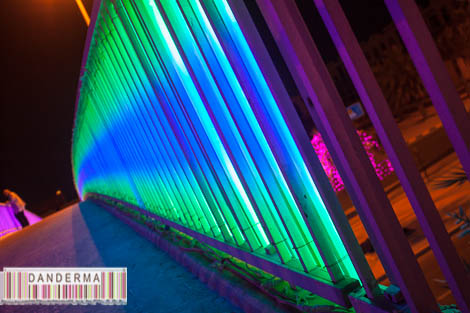 The weather was amazing. The lights were spectacular and the moon was visibly and bright! People were walking and parking their cars, stopping to take photographs next to the light fixtures around them. You can feel the festivities in the air.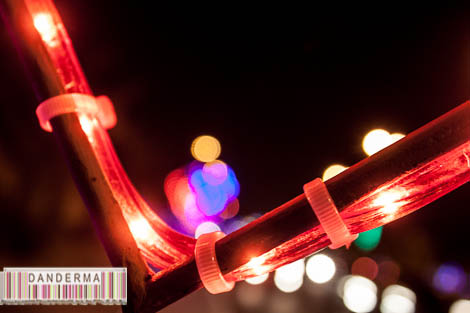 If you feel like doing something different, take a walk at night in Rawda area and you will be blown away. If you want to take photographs I suggest you either go at the crack of dawn or after midnight so you wouldn't encounter much pedestrians, cars, or catcalls from jerks driving by. Way to go Al-Rawda, great job with the lights!
---
Comments are closed.