http://landmarkinn.com/project/cottage-victorian-suite/
A couple of weeks ago users on instagram began sharing the account and pictures of a new restaurant in Kuwait City that goes by the name of Eight. I saw the pictures and the bio of the restaurant promised an exclusive, luxury, dining experience and I knew I wanted to try it at once.
Located at Al-Ghawali mall right opposite Al-Raya mall and across the intersection of Al-Hamra Tower, the location is lively and happening. Eight opens from 6 P.M. to 11 P.M. since they are still in their soft opening phase and a reservation is required. With my travelling for Eid and coming back exhausted, I finally had the chance to try it last Thursday night for dinner after I called in and reserved a table.
There was no trouble locating Eight, it's right there on the street and Al-Ghawali mall have a multi-storey parking. From the outside it looked so quite and for a moment we suspected it wasn't really opened, then we opened the big charcoal-grey doors and we were inside a lovely dining area, softly lit with a dark and broody feel. We were greeted promptly by the friendly waiters and asked if we had a reservation and when we did confirm, we were led to our table at once.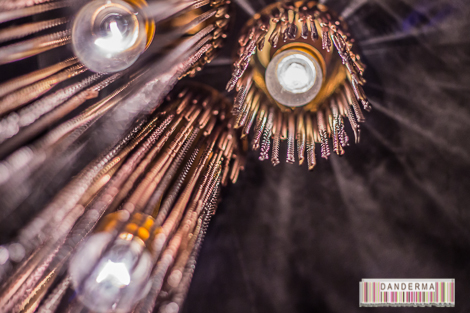 I loved the interior of Eight, all grey, copper & brass chains, and cement walls, quite modern with an industrial feel. It felt luxurious without resorting to stiff white cloth tables. The chairs were comfortable, with a little discreet hook you can use to hang your handbag on the side. I loved Eight's attention to detail.
The big windows of Eight were covered with curtains, sheer enough to let the light from the street in yet still not ruining the cosey move of the diners. The idea is to engage with your fellow diners, which were all dressed up and bubbly. The ambiance is amazing, relaxed and quite yet lively.
The menu was big, album-like, and shiny. Inside though there were only two pages. A handful of salads, a handful of appetizers, and a handful of main dishes with three desserts. The drinks section only had soft drinks, no fresh juices or hot beverages. Most of the salads and appetizers were vegetarian friendly but for a main dish you only have the pink parpadalle option.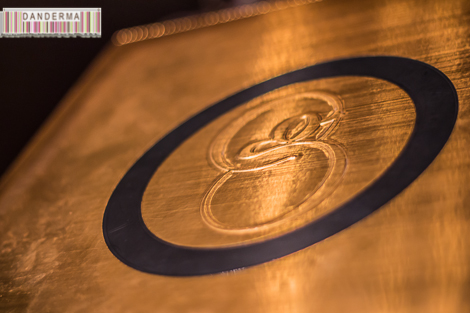 My diet coke, with ice and lemon.
Our first course, the Brie Cheese and Arugula Salad over Apricot Jam. How good does that look?
I'm a big fan of cheese with fruits, and brie cheese, and sweet with savoury. The brie was breaded and fried but it didn't feel heavy. However, the apricot jam was too sweet. So sweet in fact, the whole dish felt like I was eating Qatayef and it did need a sour edge to it, like a squeeze of lime or less sugar in the apricot jam. My husband disagrees with me and thinks the dish is brilliant. Needless to say he finished it all. It's a must try.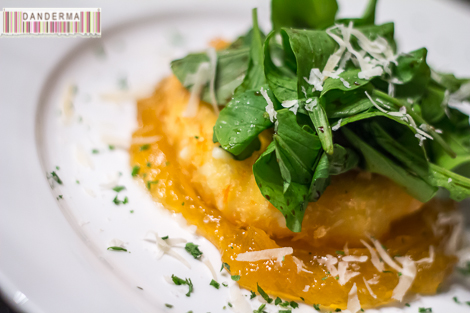 The second course, Grilled Eggplant in tomato sauce & cream on bruschetta. I loved this dish, the flavours complemented each other perfectly and the drizzle of balsamic glaze on top was the perfect touch.
I do have one warning though, don't attempt to bite into the loaded bruschetta and try to cut it into little pieces with your knife though, otherwise it would be very messy.
My husband ordered the fried sweet potato with cola-braised ribs. He enjoyed this dish a lot.
I stole a couple of potatoes and I thought it was good. A tad spicy but not too spicy.
Next came the main dish, parpadalle pasta with pink sauce.
I'm not usually a fan of pink pasta but this parpadalle was really, really, really good. I enjoyed every bite indeed and I would recommended it for anyone who loves pink pasta. The only thing I didn't like about it is that it was a tad spicy, like a pink arabiatta. It was OK and luckily I had my gaviscon with me in case my stomach was upset with the heat.
I had to try their desserts and there were only three to try from. We ordered the vanilla bean ice cream over tortilla chips topped with toffee and pecans.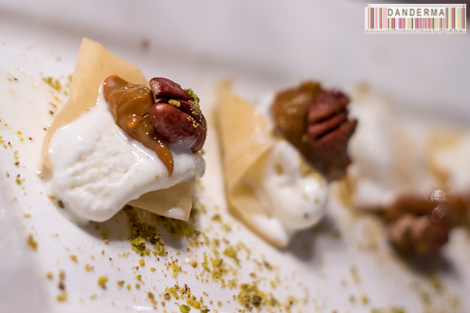 The dessert was ok. Not bad really, but it was quite messy and there was nothing much to it really. This was our least favourite dish of the night and we wished we had gone with the Swiss chocolate shots instead.
Our total came to about 16 or 18 KD. Not bad at all for a lovely quite dinner on a Thursday night in a trendy new restaurant.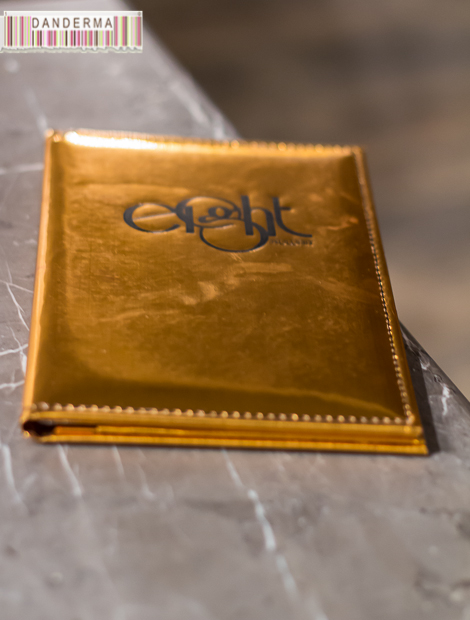 All in all, I had a fabulous dinner experience at Eight, so lovely I didn't want to leave! Lots of people, all dressed up and ready to enjoy the weekend came and went through the big doors asking for tables. The delightful ambiance lasted until a couple came in with a cute toddler who decided to walk between the tables and squeal too loudly from time to time, breaking the spell and finally getting us out of our seats. I'd definitely go back again and wish when they open full-time that they'd include more of the trendy food concoctions on their menu, the likes of the brie cheese and apricot jam salad and braised cola ribs with sweet potatoes. Perhaps more vegetarian-friendly mains as well. Great job Eight, keep up the good work.
Eight Restaurant is located in Kuwait City, in Al-Ghawali Mall right across from Al-Raya mall. They are open from 6 P.M. until 11 P.M. and a reservation is required. For reservations and more information you can call them on +(965)-22320606 or follow them on instagram (@EightKw).
---
Comments are closed.