http://wendykeithdesigns.co.uk/repeater.php
The long awaited Joe's cafe finally arrived to the Prestige district of the Avenues mall and opened its doors to eager diners a week ago. Personally, I am not a fan of the Joe's cafe in London given that I avoid restaurants with more than one table of Arabs like the plague when I travel but passing by the big floor-to-ceiling windows cafe in Kuwait I had to, just had to try it especially since everyone was making plans to go and dine there. Plus, it was a rainy day and rain reminds me of London and what better way to dine on a rainy day than in a cafe all the way from London?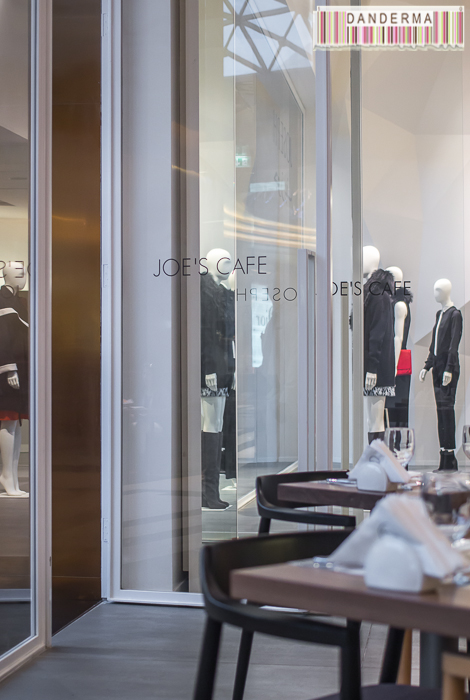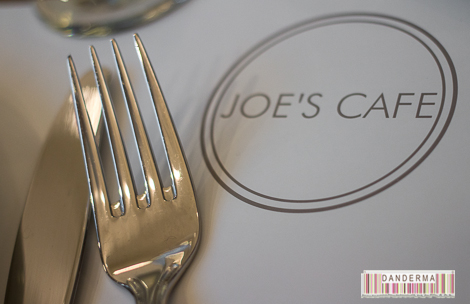 Located right next to Joseph in the first floor of Prestige district and separated with a glass sliding door, the cafe is big and airy with lots of tables and a gorgeous no-fuss modern design, cool without trying too hard. Joe's opens from 4 P.M. till 10 P.M for now since they are in their soft opening phase, we were there by 4:05 and already all the outdoors tables were occupied by diners therefore we sat inside next to the huge windows.
The service was quite quick and efficient, our menus handed to us within seconds of us sitting down. The items on the menu, when compared to Joe's London items, are almost exactly the same. Price wise, some items are cheaper than Joe's London and some are almost the same if you convert from GBP to KWD. Thankfully, they didn't swap the pound with KD like other franchisees do.
It didn't take long for me to place my order: I knew I wanted the melted goat's cheese salad and decided to go with the spinach & ricotta ravioli in creamy mushroom sauce. My husband ordered the French beans & beetroot salad with the Chermoula chicken breast with couscous and baba-ganoush.
After the menus were whisked away we were presented with a bread basket with butter, olive oil, and balsamic vinegar. I could live the rest of my days eating nothing but fresh bread dunked in olive oil and balsamic vinegar <3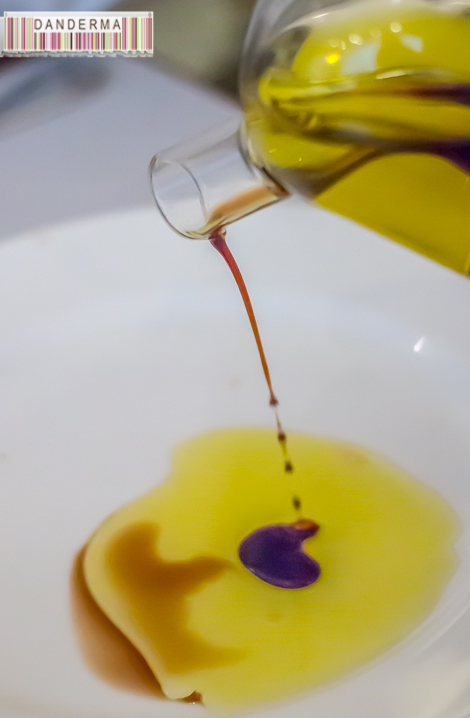 Sadly the bread that arrived wasn't very good. It was not hot nor fresh, if anything it was quite tasteless and a tad stale. I did love the olive oil & balsamic vinegar jar though.
Next to arrive were our drinks, mine was a classic mojito.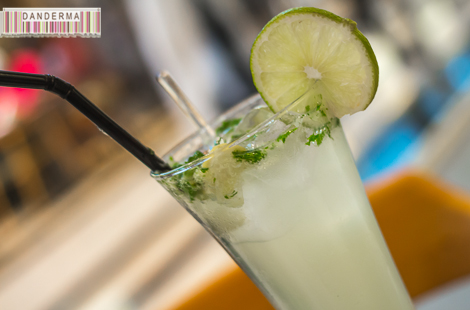 My husband's was a strawberry daiquiri.
Not long afterwards did my melted goat's cheese salad arrive, how good does that look?
I loved every bite of my balsamic glazed melted goat's cheese salad which almost always reminds me of lunch in London. The goat cheese is quite mild so if you are not a fan of goat taste/smile in the cheese you won't suffer much. My only complaint was the baguette slices used, which turned out to be of the same quality of the bread from the bread basket and were quite stale as well. You can however enjoy the dish without the bread.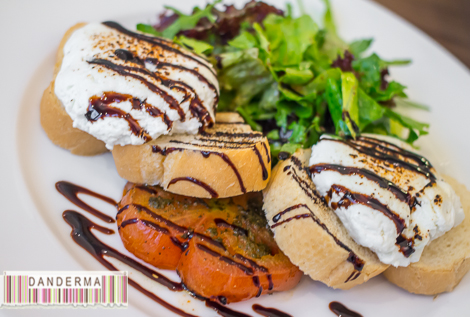 The French bean and beetroot salad was very fresh but it lacked one very important ingredient: the dressing! Alas, we used the balsamic and olive oil provided with the bread basket to dress it but I don't think we would be ordering it again.
Not long afterwards did our mains arrive, my ravioli was quite creamy and looked much better in reality that it did in my pictures.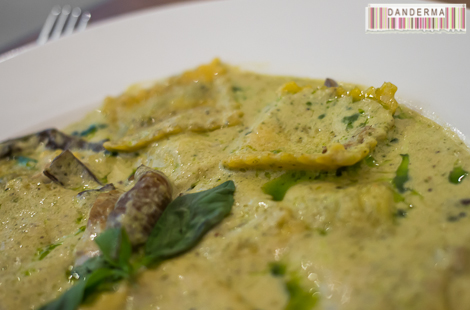 I enjoyed every bite of my ravioli. The cream was right, the sauce was right, the herbs and basils were right, and I didn't want my dish to end. It is as good as a ravioli dish you'd have in London for sure and I highly recommend it if you are hungry and cold.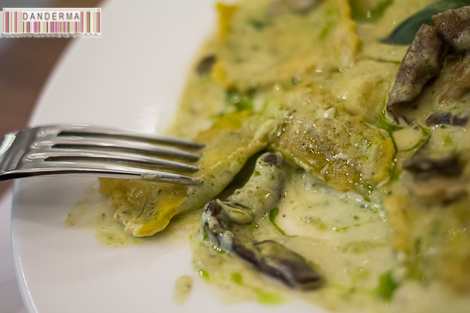 My husband's Chermoula chicken breast with couscous and baba-ganoush wasn't as good as my ravioli and he didn't enjoy it because according to him it was quite bland.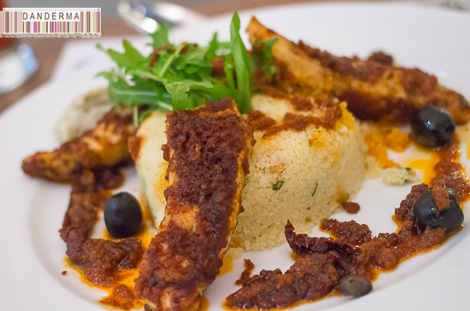 I stole a forkful of baba-ganoush from his plate and, though it was quite smoky I had to agree it was indeed bland. It needed something to kick start the flavours together. I told him to go with the chicken risotto but he didn't listen to me but you might listen and I'm telling you, go with the risotto as it appeared on almost every table in the cafe.
The finale should have been with the Joe's infamous sticky date pudding but I don't eat sticky date pudding and my husband was quite stuffed therefore we asked for the check. Our lunch for two came to 30.150 KD. Not that bad for two hungry people but I personally thought the average strawberry juice we ordered wasn't worth being priced at almost 3 KD.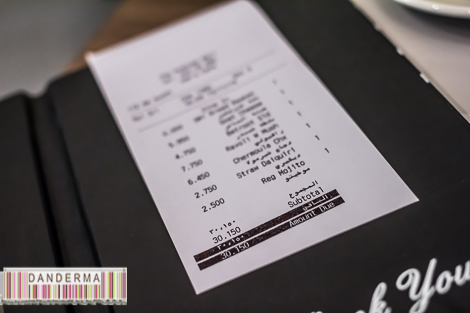 Its also worth noting that Joe's cafe had Arabian coffee on its menu, that being the current IT thing in Kuwaiti restaurants and cafes. We didn't try it but I wanted to very much. The next time I'm at Joe's I'm definitely going to have Arabian coffee especially if I manage to grab a table outside on a cold winter Kuwaiti day.
Joe's Cafe is located in the First floor of the Prestige district in the Avenues Mall, right next to Joseph and right above Harry Winston. They are currently in their soft opening phase and are open from 4 P.M. till 10 P.M. daily. For more information you can check their instagram account (@JoesCafeKW).
---
Comments are closed.