My friend and estranged blogger eshda3wa dropped by my place on the second day of Ramadan in keeping up with her tradition of giving away Ramdan noqsa's, a noqsa is the name we call the gifts in Kuwait by the way. This year, eshda3wa's gift was also traditional with a wicker tray and five mini tin pots inside.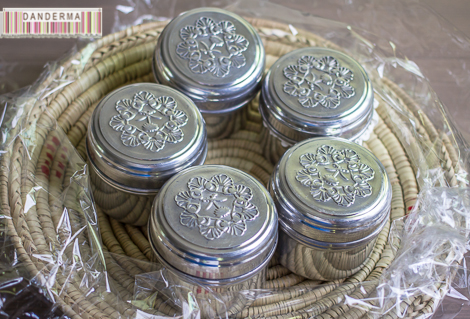 What's inside? Very healthy and all natural munchies for post iftar tea time! Dried fruit, qamar deen bites, sesame bars, and those little sugary dates stuffed with what I thought was rahash and topped with pistachios at first.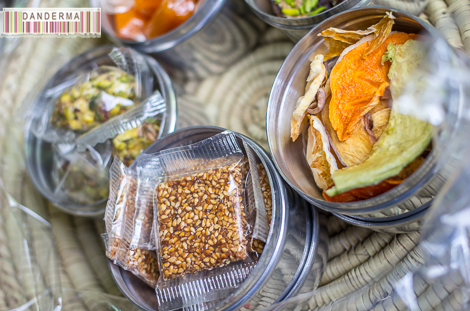 Eshda3wa told me the dates weren't stuffed with rahash, rather something else and I had to try it and see since she made them herself. I don't usually eat dates but I was willing to try one, the only problem my dear husband wouldn't let me, he said they were his and I could only take a whiff! It's peanut butter! Stuffed with peanut butter! I always thought that rahash and peanut butter were interchangeable with peanut butter tasting better than rahash but to use them with dates is something I've never thought off before!
Thank you dear esdha3wa for your lovely and quite thoughtful gift. Thank you for remembering me in your Ramadan tradition, I miss you and I'm glad you are still around in Twitter. Mbarak 3leech el shahar o 3asach min 3owwadah :*
---