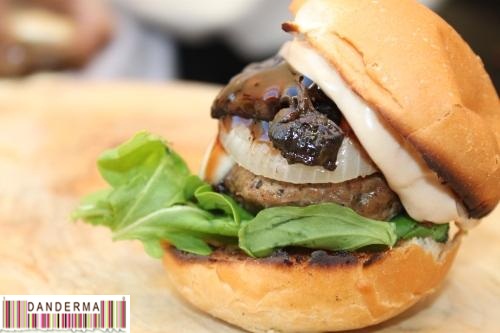 http://thebeginningfarmer.com/page/9/ Warning: This is going to be a very long, very detailed post with lots of lovely pictures and delicious food descriptions. Do not read if hungry!
Since this time of year is the prime time for BBQ's and outdoorsy gathering, I received a very generous offer from Munch Catering to provide us with a complimentary BBQ service. We decided that Saturday was the best time to take advantage of the Munch BBQ offer so we did.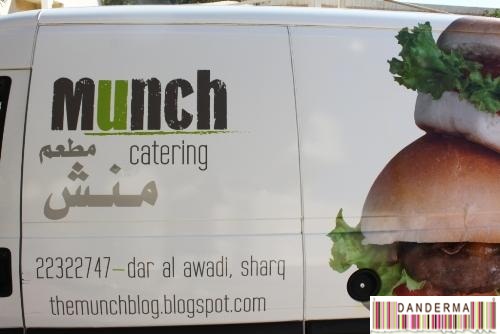 The pictures of this post do not do justice to how organized, how clean, how skillfull, how compact, how efficient Munch BBQ service was! We asked for it to arrive at 1:30 P.M and at 1:30 P. M. on the dot and the Munch Catering van was at our door with their gear.
Munch brought their own grills which were gas operated so they didn't take long to start the fire. They brought the food in one big cooler, everything clean and separately packaged. The cooking supplies were in another cooler. They even brought their own garbage bin!
Although they brought two grills and one serving station, they didn't take much space at all! 2X2 metre square of available space would be more than enough! The BBQ chef is a very nice guy whose efficient and very clean. Dettol l was used when needed and he changed his gloves whenever he handled a new item of food which ranks very high in my dictionary.
Everything was set up and prepared. The BBQ station on its own good, promising a delicious meal ahead. Very neat.
What about the food? The menu Munch provided for us was lipsmacking. As a vegetarian it is really hard for me to get excited about BBQs for the lack of vegetarian-friendly food options available to me. Not this time though. First there were two salads for us to have as appetizers as the grill was lit up. The salads were dressed as soon as the station was ready.
Munch provided two salads and I was told that we were the first to try them. The first is an Asparagus, Peas, and Rice Salad. Although i am not a fan of rice in salads i loved that one! Rice and peas and chopped veggies and asparagus, it worked and was really tasty.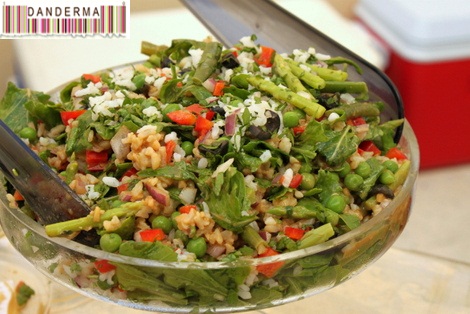 The second is Nachos salad. What's special about the Nachos salad is its dressing. It has a non-Mexican herb that I cannot put my finger on plus some sort of sweetness and the combination is dynamite! Everyone kept having seconds and with every bite they would go "mmmm".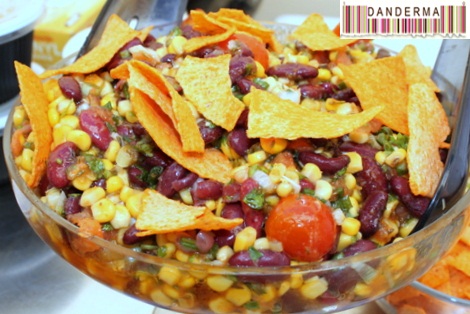 As we enjoyed the salads, the grill was fired up and oiled.
The first grill was used for the vegetables and the first grilled item on the menu was "Grilled Asparagus with Picorino Cheese".
The asparagus were very green with just the right crunch in the bite! Perfect for this time of year! The griled food was presented in a wooden tray provided by Munch.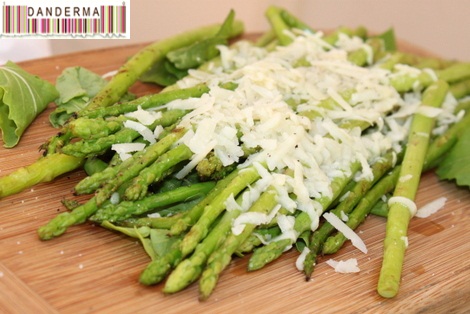 Next item on the menu? Grilled vegetables. Carrots, Red Peppers, and Baby Corn all marinated in some very delicious dressing and grilled to perfection <3
These grilled veggies made me very happy! The idea of serving the food in wooden tray was spot on. My family loved the restaurant feel it provided.
Next item on the menu: Grilled Portabello Mushrooms! I don't know what did they dress it with, I'm guessing something with balsamic vinegar, but they turned out to be extremely good!
Even our picky eaters who don't like mushrooms grabbed themselves a little silver fork -which is very cute by the way- and marvelled at the chunky mushroom bite with the tangy baslamicy taste.
Next on the menu was the Garlic Aioli Chicken cooked on the other grill.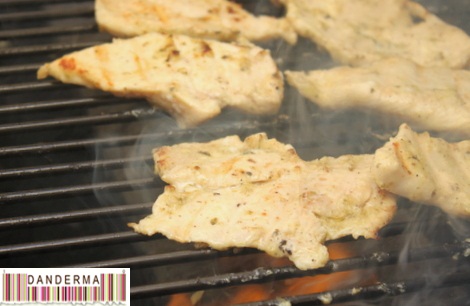 The chicken was cooked to perfection and cut into bite sized strips and poked with the forks. This dish was a big hit!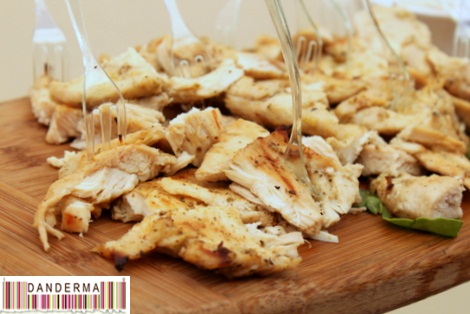 Next came the Pizza's! Munch provides pizza dough with the BBQ and as they set up the BBQ would be kneaded and grilled on their own.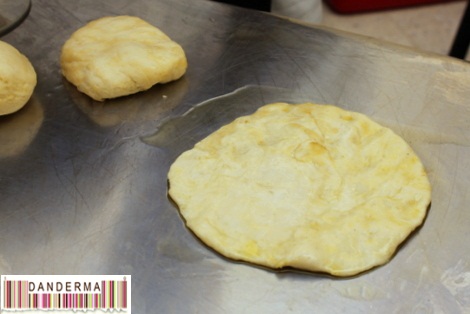 Then the grilled pizza doughs were spread with tomato sauce and topped with the different pizza toppings. There were a simple Margharita pizza.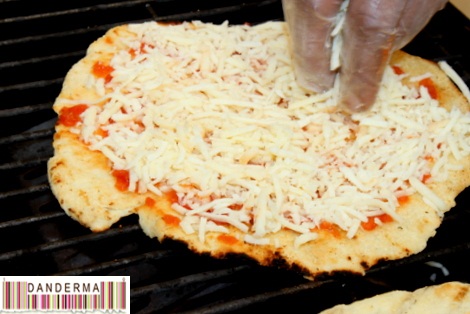 When the cheese was all melted and the pizza was done, it was sliced and mounted on the wooden serving plate. Yum!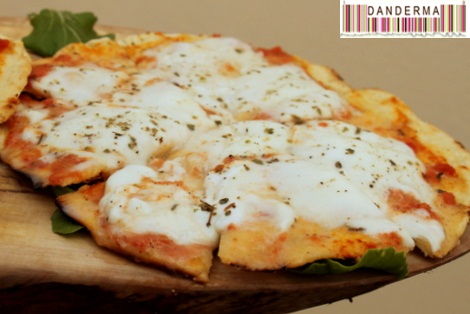 The second pizza, the Buffalo Mozzarella Pizza, was just divine.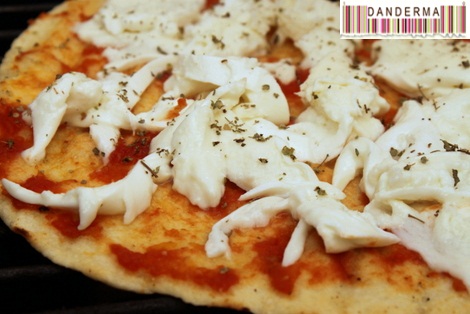 The soft peaks of Buffallo mozzarella melting slowly on top of the tomato sauce speckled with slivers of oregano. Mamma mia!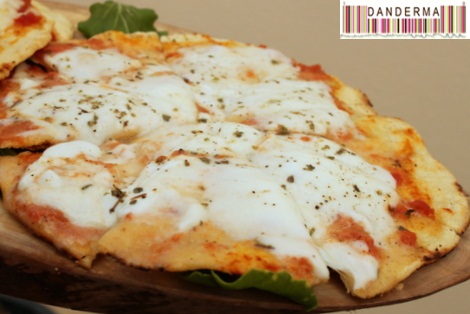 Next came the Mushroom heaven pizza.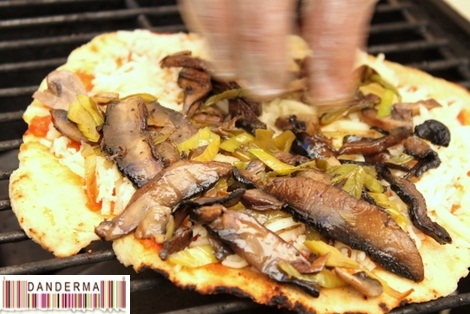 Mushroom heaven it was indeed!
Next came the Chunky Veggetarian pizza.
The Chunky Veggi  lived up to it's name! I don't know which pizza to like the most.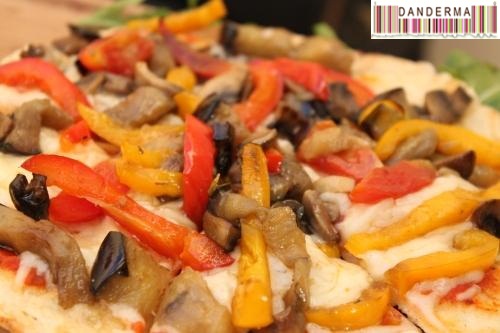 After we gorged ourselves with pizza the star of the BBQ for my fellow diners arrived. It was the Wagyu Steak Bites.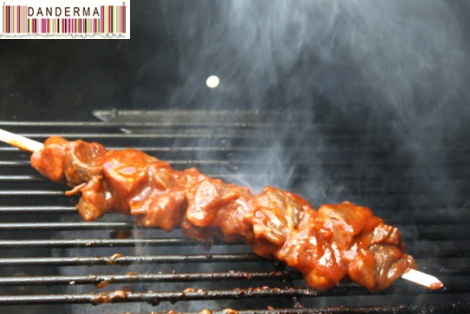 I can't talk about that one since I didn't taste it myself but the wooden board holding the bites was emptied in an instant and I guess that's a statement on how good it was. Munch say it's their best seller and it was in fact a best seller at our lunch table.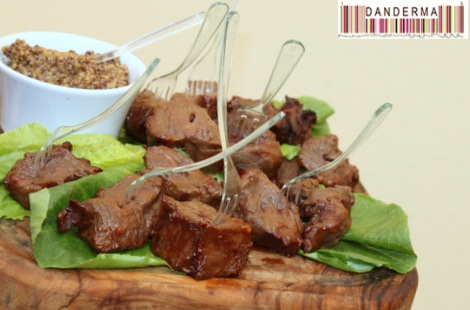 Next came the Shrimp and Hamoor Satay with Almond Sauce and Cucumber Relish.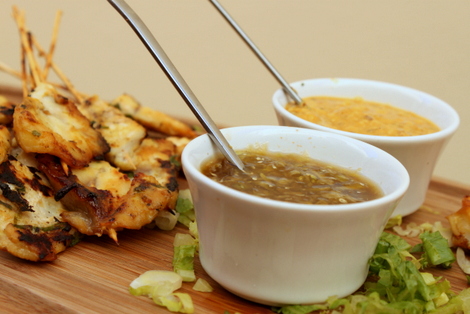 A very unusual mix of flavors, very tropical and perfect for those who are not vegetarians but are steering away from red meat!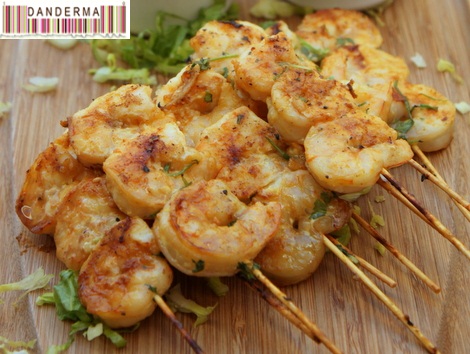 Next came the grilled sliders! What's a BBQ without grilled burgers now right? There were two types of sliders that day and the first one is the Mexican Sliders.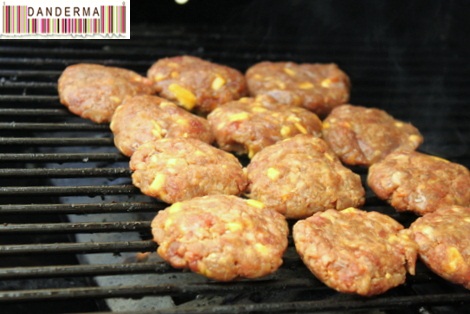 These Mexican sliders made everyone swoon! The patty had a mild hint of spiciness in the patty and was made with with cheese in the mix so I guess it was extra cheesy!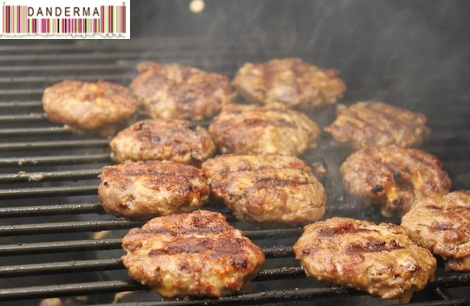 Topped with more cheese…
Sliders assembled…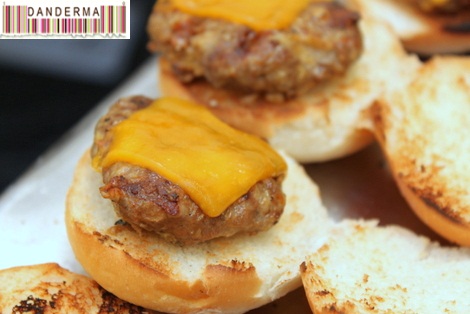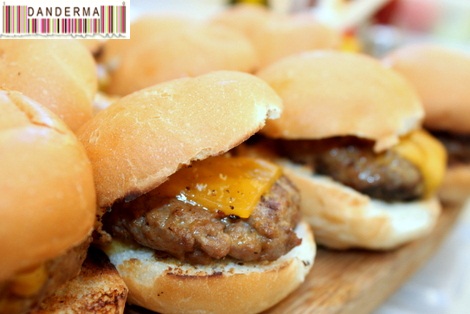 The Mexican burgers come with guacamole and tomato salsa -we had them on the side for the picky eaters- and the non picky ones slathered their burgers with the guacamole & salsa and they thought it was a winning combination. They were the 2nd big hit on the menu after the wagyu bites!!!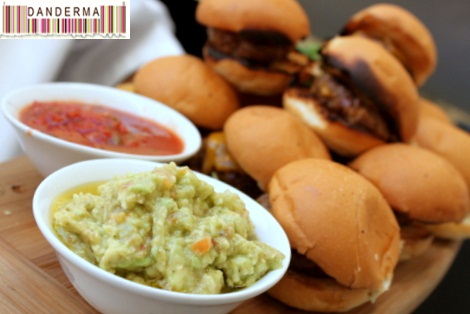 The second kind of sliders were the little Italian Burgers! Juicy grilled meat patties topped with buffalo mozzarella cheese…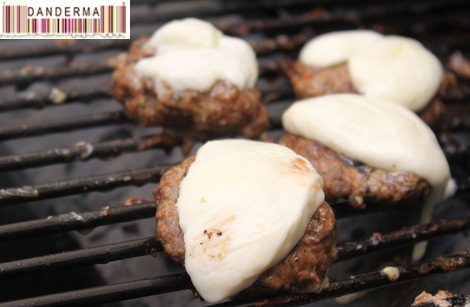 Then topped with grilled mushrooms, caramalized onions, rocket Leaves, and some sort of yummy pink dressing.
Do you think they were good? They were big winner!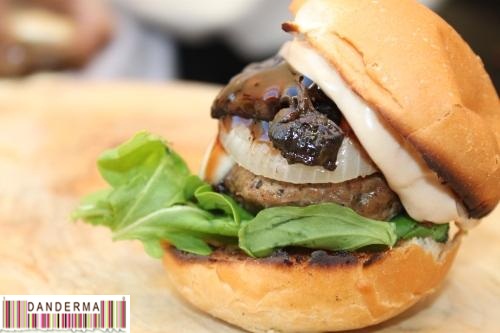 Are we done yet? Nooooo… Nuttella Pizzas! One with strawberries and one with bananas!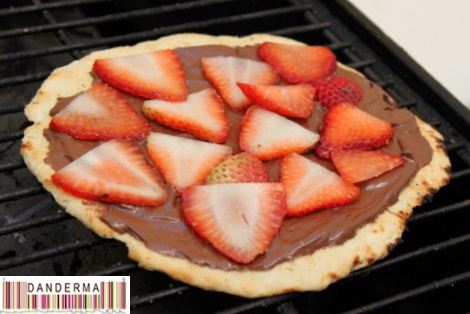 I have never seen a dessert disappear that fast in my life. Need I say more?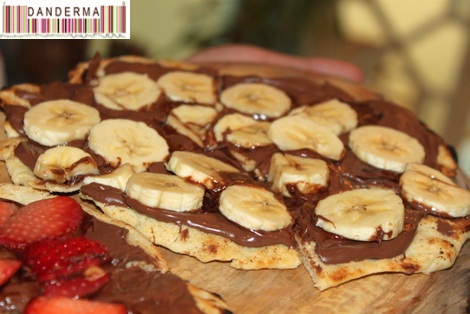 Then came the white chocolate bread pudding provided by Munch in this stainsless steel platter that I don't know what's it called.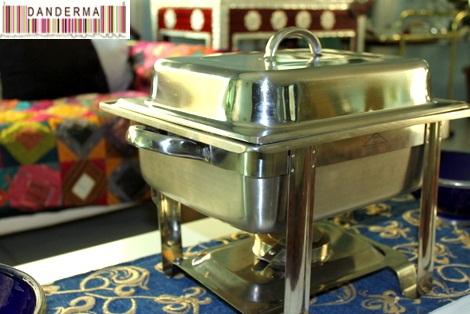 It might not look like it but the taste of this white chocolate bread pudding was out of this world! If i weren't already too full i would have had seconds and thirds!
The moment the chef was done grilling, he simply and quietly packed up, no mess, no fuss, and in a few minutes it was over. The van came and took every thing away, and not a single atom of garbage or dirt was left behind. It was as if they were never there. Amazing service!
A note on quantity: although the food was supposed to be for ten people it was more than enough with plenty to go for much more people, particularly because there were a lot of food items to eat! What more can you ask for? good weather, lovely cosy company, delicious food that tastes out of this world and a fun experience with lovely presentaion.
Congratulations Munch on a job well done. I had never ever had someone cater a gathering at our house with such fun and good food. We had so much fun today we are already thinking of having another gathering on Wednesday just to order Munch. Yes, that fun and thatgood! By the way you can always order the food to grill from MUNCH and grill them at your own convenience. Just in case you prefer to do the grilling yourself.
Thank you Munch for making the first Saturday of winter 2010 a memorable one! We cannot wait for the next time we have you guys over. Very soon Insha2 Allah 😀
To have your next BBQ catered by MUNCH or for more information and inquiries you can give them a call on +(965) 22322747 / 57, check their wesbite with the BBQ catering menu on it (link), check out the Munch blog (link) , like their facebook page (link), follow them on Twitter (), or on instagram (@MunchKuwait).
---
30 Responses to "Spectacular Saturday Lunch with Munch BBQ"