http://columbuscameragroup.com/2016/01/
Just before the start of the Eid holiday Heil & Zafa'arn, a local bakery selling traditional Kuwaiti desserts and sweets, sent me a big basket filled with their goodies. The basket had a greeting card attached to it with the words "Eid Breakfast" printed on it in Arabic, and a lavish Eid breakfast basket it was indeed!
Personally I've always been a fan of Heil & Zafa'aran ever since they've opened around a decade ago. They specialise in taking the traditional Kuwaiti desserts and modernising them by making them bite sized or dipping them in chocolate. Their presentation of individually wrapped bite sized goodies and the ready-to-sell tin boxes with different combination are a hit. I always make sure I grab some tins with me for friends abroad when I travel, they have a kiosk in Kuwait Airport departures. Now let's see what's inside, shall we?
The most popular Kuwaiti desserts were there, all arranged in traditional wicker baskets and wrapped up nicely! Let's see, there were a basket of ghuraiba, the equivalent of a Kuwaiti cookie made with cardamom and a type of flour I can't recall now. Also, packets of mini darabeel, which are like round Kuwaiti crepes, dry and filled with saffron, cinnamon, and powder sugar.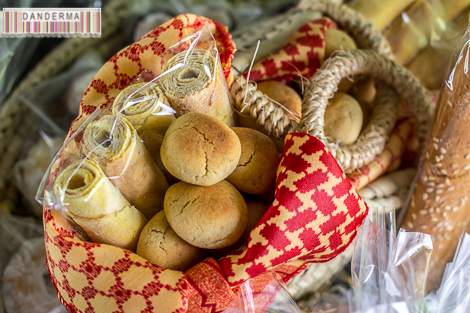 What to do with darabeel? You dunk them in a cup of hot milk infused with cardamom and they will instantly become soft and insanely delicious, a favourite breakfast item of mine especially in the cold winter mornings.
Also, there were samsamiya which are little balls of sweet and chewy sesame and molasses.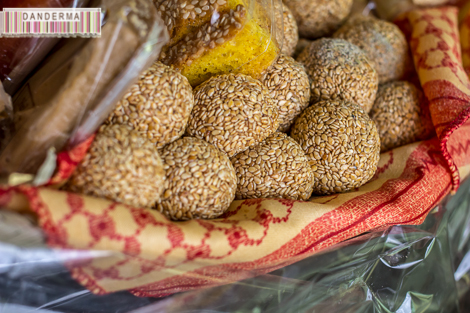 Baqsam, long dry bidscuits with sesame that people dunk in tea with milk for breakfast or dinner. I'm not a fan of baqsam but everyone I know is crazy about it.
Bars of rahash -thick sesame paste- and halwa -sugary and sweet concoction with nuts- were there as well. I'm not a fan of rahash but Kuwaitis are of course, they wrap it with pieces of hot tanoor bread or use it as a dip with pieces of dates. I'm -sadly- a very big fan of halwa and I wouldn't mind eating 3 bars of it on my own.
Lesan el thoor, dry biscuits with saffron, and baith el qe9a were there as well.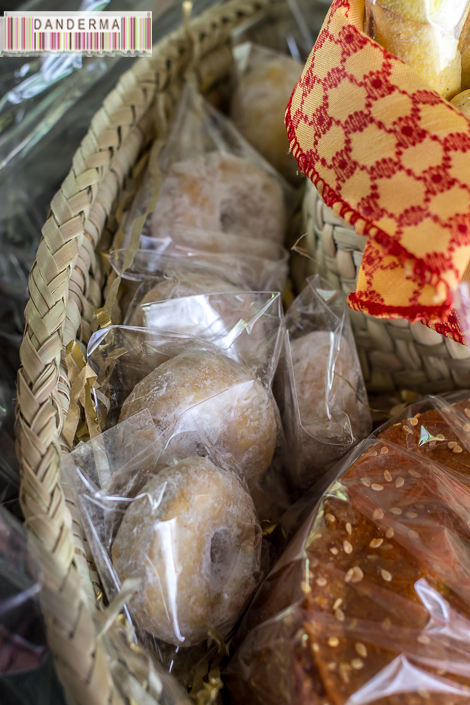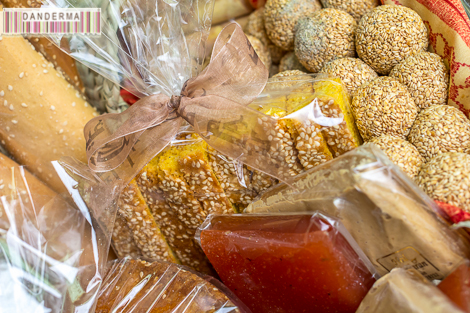 Last but not least, an insanely aromatic, lip-smacking delicious, super moist qers oqaily cake!
Qers Oqaily is the number one traditional cake in Kuwait. Unparalleled, and prepared with lots of eggs and plenty of ground cardamom, saffron, and sesame. The result is a dense yellow cake that is spectacular especially with a cup of tea with milk. Heil & Zafa'aran's qers oqaily cake is one of my favourites especially the tiny bite-sized individually wrapped ones. They even have a version of them dunked in chocolate!
Quite an eid basket indeed! All you'd need is a cup of tea and some hot cardamom infused milk and you are ready to go! I'd totally recommend this basket as a gift or as something to bring along with you if you are invited to someone's house for a gathering, especially if it was a breakfast gathering.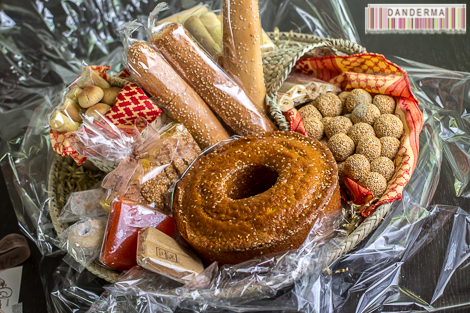 Heil and Zafa'aran have recently changed their management and are now owned by MMC group, the same owner of Lenotre and Cafe Meem. I can only begin to imagine the potential of Heil and Zafa'aran under the new management! Thank you Heil & Zafa'aran, MMC Group, and Ansam Al-Radwan for sending this lovely Eid breakfast basket my way. Wishing you the best of luck and can't wait to see what you come up with next.
Heil & Zafa'aran are located in Jabriya right beside McDonald's and in the departures hall of Kuwait International Airport. For more information you can call them on +(965)-25329232 or follow them on instagram (@HeilWZaafaran).
---
Comments are closed.