does neurontin help a meth comedown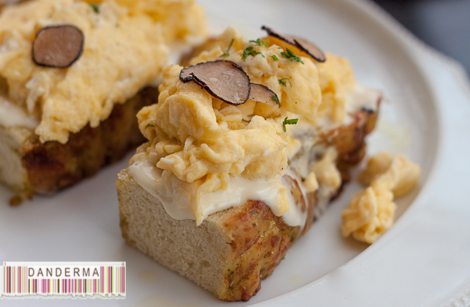 Ever since Figs by Todd's English opened up in 360 Mall they served breakfast and judging by the pictures of diners I saw on instagram, it was a breakfast that I really wanted to try. However, I'm not much of a fan of Figs in 360, for one thing the seating area bears too much resemblance to the food court next door. I saw the pictures, got hungry, yet knew I'd never drag myself up from bed during the weekend to go to their 360 branch.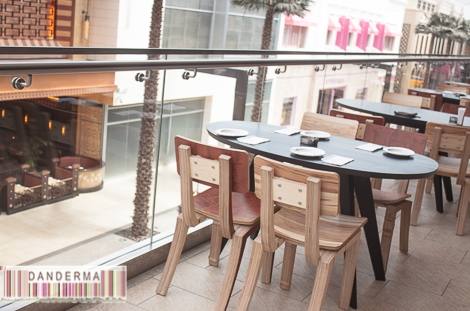 Then I tried Figs the Avenues branch and liked it way better than their 360 Mall branch. When they officially opened and they started serving breakfast as well, I knew the time has come to have breakfast at Figs and last weekend I finally got the chance to do so. We were there at 9:30 AM yet the Avenues was buzzing with shoppers and when we reached Figs two tables had already been filled up with diners. We decided to sit outside on the balcony overlooking The Cheesecake Factory and the Grand Avenues and watch early morning shoppers. I love the weekend mornings <3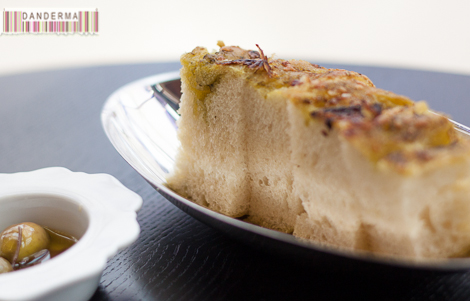 Moments after we were seated the waiter brought out the menu with pieces of baked bread and a small dish of olives in olive oil.
We started by ordering orange juice for me which was extremely fresh with no sugar added, something I truly appreciate. My husband had a "green tea latte sweetened with agave" that he claims was very good but it had an unappetising green hue and though he urged me to try it, I declined. I don't think green tea with milk is a combination I could stomach early in the morning but to each his own I guess, he loved it.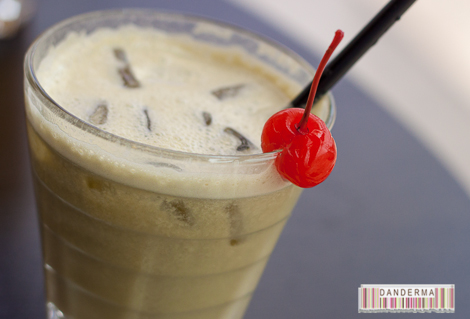 I also asked for an Americano coffee and when it arrived I loved the presentation. The little porcelain saucer doubling as a mini tray, the two Oreo like biscuits. Very cute. The coffee was good too with a lovely honey-like crema on the surface.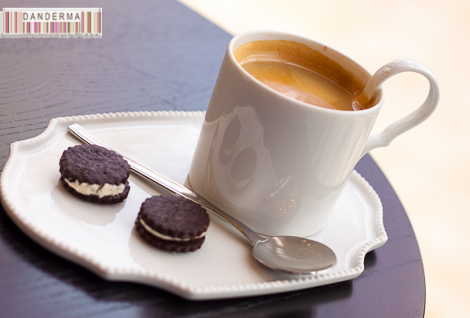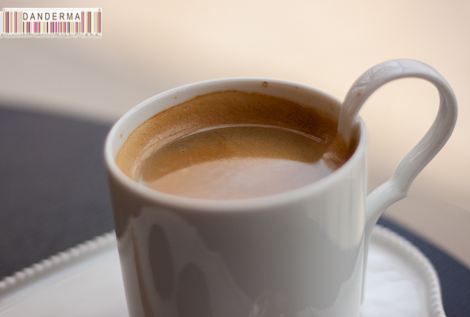 The biscuits were a tad on the dry side, too dry to my liking but I guess you had to dunk them in the coffee to soften them up. They were very cute nonetheless.
I was really really craving pizza and I saw that they served 'flat breads' on their breakfast menu. When you read flat bread in a restaurant that has a wood firing oven and pizzas on their menu you'd think its a small pizza bread. I chose one with cheese and tomato and was expecting a mini margarita.
The flat bread was, however, based on something like layered filo pastry drenched with butter. More like open-faced croissant baked in the over than a small pizzetta. Of all the breakfast dishes I liked that one the least, it was too oily and slippery.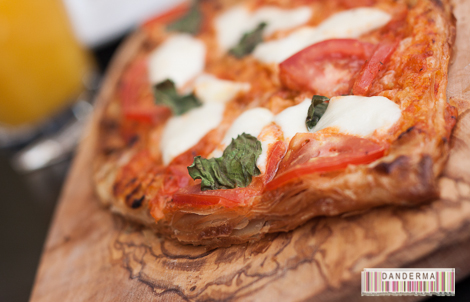 My husband ordered the mushroom omelette and it arrived in a little skillet like a baked fritata. The presentation was excellent and the omelette was very good.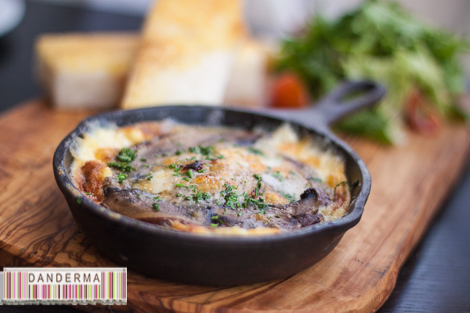 My egg dish was the scrambled eggs with truffles. I love truffles and I only eat scrambled eggs so the moment I saw that dish on the menu I had to try it. It looked amazing for sure!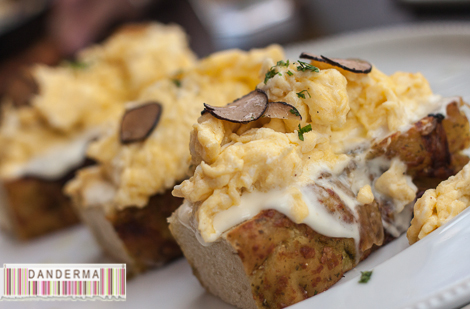 What about the taste? Tasted extremely good. The eggs were scrambled just right, not too runny and not too firm. The truffles added that rich touch and depth to the dish and the bread was firm enough to hold the entire thing. I could have done without the white sauce between the eggs and the bread though, it tasted too much like mayonnaise or a tangy sour cream and it didn't add anything to the taste, just made the dish heavier. Next time I will order my truffle scrambled eggs without it.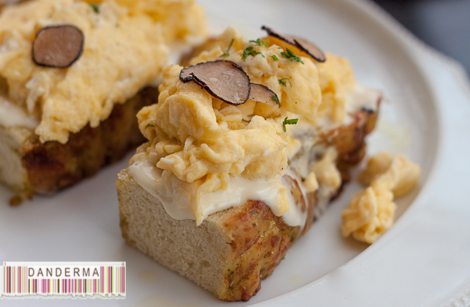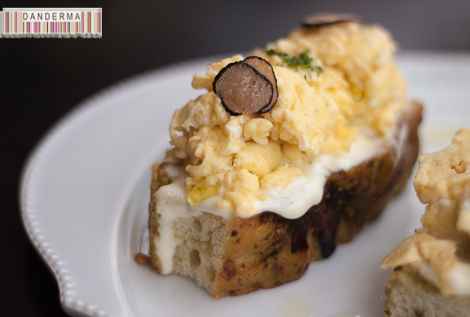 Last but not least came our dessert: the red velvet pancakes. Three fiercely red fluffy pancakes stacked on top of each other with a layer of chocolate sauce in between topped with cream cheese frosting.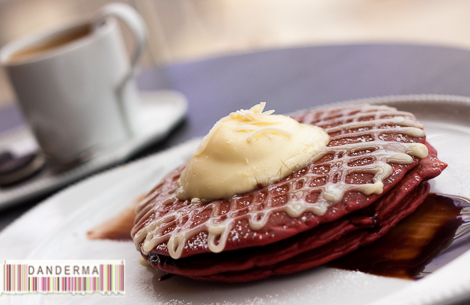 This is definitely a dish to share between four or more people especially after a hearty breakfast.
Was it good? Personally I loved it. It wasn't too sugary, the pancakes were fluffy and the chocolate sauce drenched the inside of the pancakes stack perfectly. The cream cheese frosting did dry out on us as I took the picture and hardened but that didn't stop us attacking the poor thing.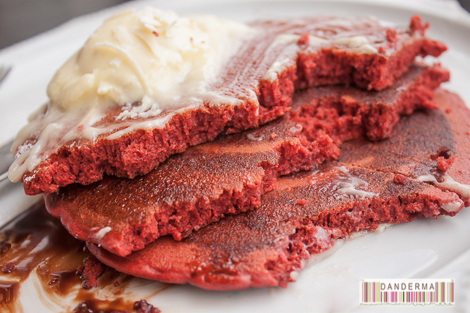 All in all, it was an excellent breakfast experience and I'm glad I finally got to try Figs breakfast. The food was excellent, our waiter was very helpful with his suggestions and very attentive. I had a very good time and I'm definitely going to the Avenues branch again.
Figs by Todd English starts serving breakfast at 9:30 in the morning. Figs first branch is located in the second floor of 360 Mall and second branch is located in the first floor of the Grand Avenues overlooking The Cheesecake Factory. For more information you can give them a call at +(965)-25309559, follow them on Twitter (@FigsKuwait), or Instagram (@FigsKuwait).
---
One Response to "Breakfast at Figs by Todd English in the Avenues"