http://taltybaptistchurch.org/events/list/?tribe-bar-date=2018-07-21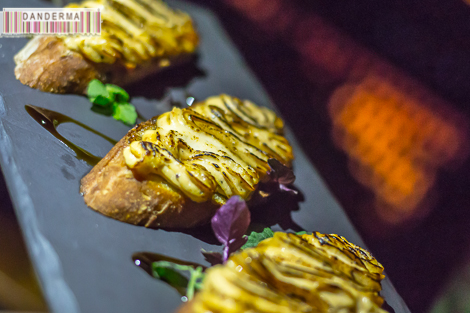 There, at the very end of the Seif strip of restaurant overlooking the Seif Palace, sits a restaurant space that now has the name Pintxos. Many restaurants have come and gone in this particular spot, an Italian one if I recall correctly, then another Japanese one. None of the restaurants that opened in that spot were successful even though the area is popular and the restaurant space is big with lovely outdoors seating. It wasn't meant to be I suppose.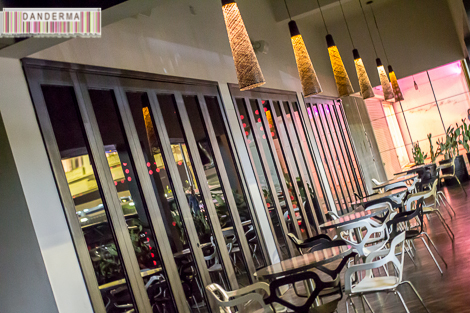 For the past year or so the facade of the restaurant area was painted black and a "Pintxos" sign have been put up. Pintxos wasn't officially open but it did accept private reservations. I've been waiting for a very long time for it to officially open and finally they did, two weeks ago!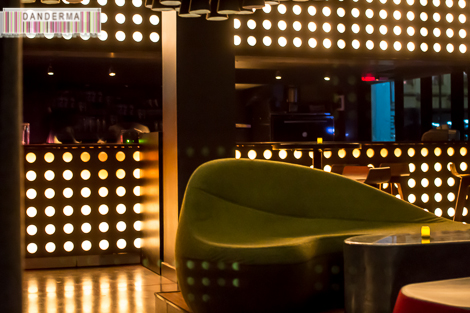 I had the pleasure of dining there last Thursday and as I expected, I loved everything about it. Pintxos is a Spanish tapas restaurant concept with a bar-like look and feel. Dimly lit, with great music and a big fat menu chock-full of miniature platters thought up by the one and only Chef Ahmad Al-Bader, the man behind some of my favourite restaurants like Pizzetta, Burger Hub, Prime & Toast, Izakaiya, and The Butcher's Den.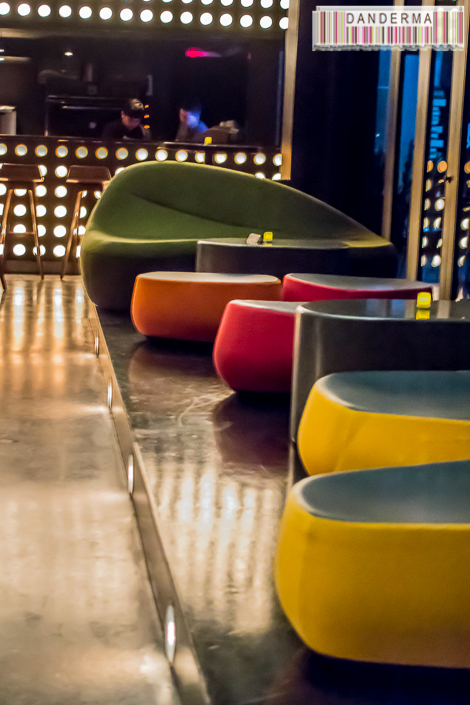 When I say dimly lit I mean dimly lit. As a matter of fact, I should probably say barely lit with nothing but a little electric candle on your table for company.
As you look up from your seat, you notice the little lambs nestled inside fabric-like cones of some sort all over the place. I'm not sure why but I was reminded of octopus tentacles as I saw them, hundreds of them, spread across the ceiling. They light they provided is very dim but they were something to see on their own!
As you settle down you are handed a little flash light to enable you to look at the menu and place your order, which took forever for us because there are plenty to choose from and we didn't know where to start.
The great thing about the tapas-style menu is that you can order as many dishes as you want and they would still come in small portions. Most of the dishes were unusual combinations that you know would work. There are some interesting drinks on the menu especially one made with jalapeños peppers! Had my stomach been able to handle jalapeños I would have ordered it. Alas, I had ordered an apple vanilla mojito which was excellent.
Next to arrive was a basket of Patatas Bravas with a spicy side dip. They were gooood!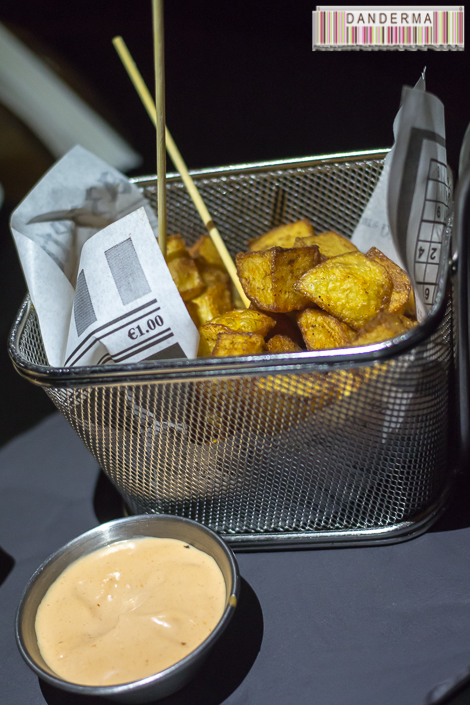 Next, Crusted Baby Mozzarella Balls with sun-dried tomato jam. They didn't last long on the table.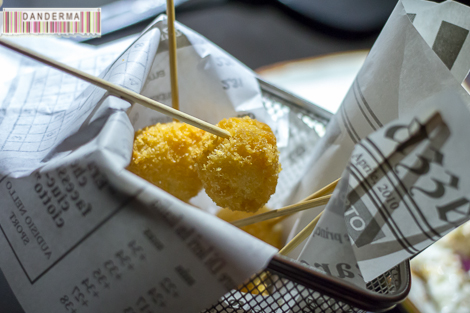 This dish doesn't look like it but it was my favourite. Burrata cheese with truffle oil and dark chocolate shavings, lip-smacking! The dark chocolate and truffles complemented each other perfectly and the creamy burrata was just the right backdrop to that combination.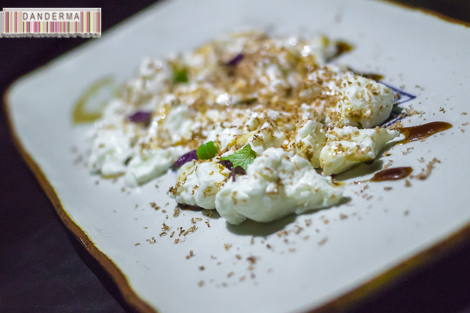 Grilled Goat Cheese Crostini, really delicious.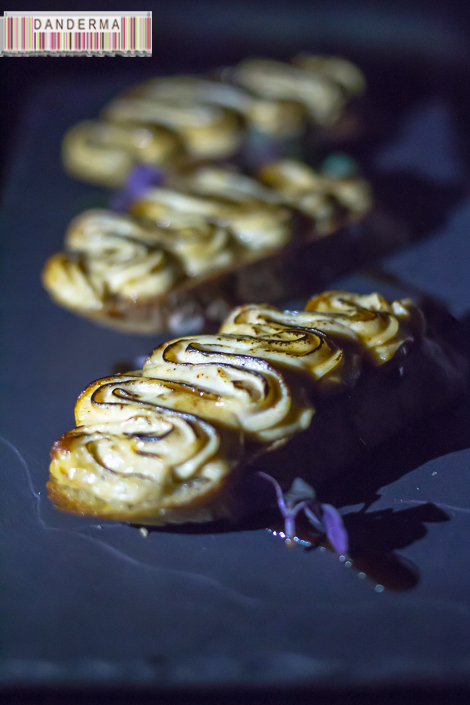 Halloumi bites with watermelon dip. This was my second favourite dinner dish. The watermelon dip was awesome, I almost drank it! I used it with the patatas bravas as well!
Last but not least, the rib sliders. Juicy, tender, and gone in 60 seconds.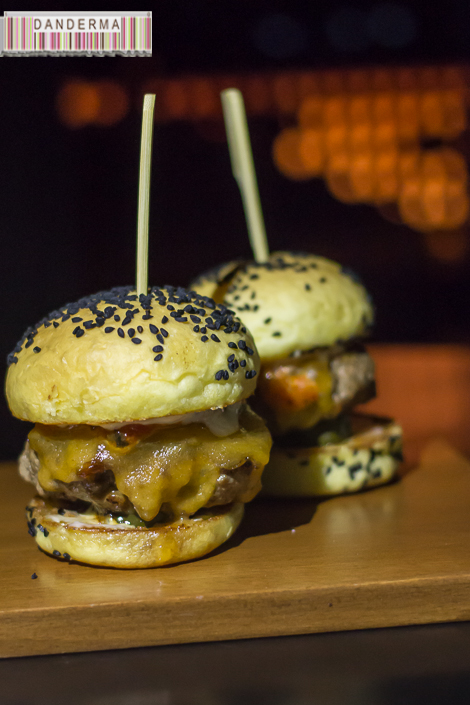 Our bill came to around 20 KD, not bad at all for a dinner out in a new restaurant.
We had such a great time at dinner we didn't want to leave! The food was excellent with plenty to choose from, the music was good, there was a good crowd even though you couldn't recognise them, and it felt like you were somewhere else entirely. You forget about the outside world and you can only concentrate on the food, your company, and your conversation. The service was fast and efficient but a tad too friendly, it was as if they were making sure you were OK with how dark it was inside and we kept reassuring them that we were fine and everything was OK. All in all, it was a great experience and I think Pintxos will be there to stay, I'm definitely going back.
Pintxos Spanish tapas restaurant is located in Al-Seif Strip right beside Burger Hub, Pizzetta, and Slider Station. They are open from 5 P.M. till 11 P.M. daily and you don't really need to reserve a table. For more information you can check their twitter (@PintxosKw) or instagram page (@PintxosKw).
---