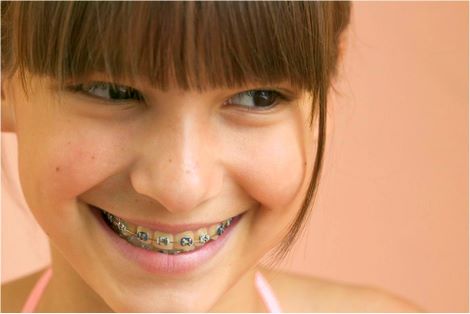 1- It will shave off 10 years of your real age and make you look younger and more innocent.
2- You won't be able to eat anything for a long time so you will loose a big amount of weight. You will be thinner.
3- Your facial features will improve: your nose and your lips and your mouth will look different and better at the end. You will look more beautiful.
4- Your speech will be corrected and your pronunciation of difficult letters will improve.
5- People with braces cannot whistle, so there is less amount of noise :p
6- People with braces cannot chew gum. Believe me, you can do without chewing gum and forgetting about it and chewing away without noticing. No gum society is a much classier society.
7- Straight teeth are easier to clean and brush than crooked overlapping teeth. Easier to clean means you will get healthier longer living teeth therefore less visits to the dentist. Some orthodontists say it even reduces the chance of having some heart related disease but I am not sure if that's confirmed or not. Yjooz.
8- After all the pain, the hunger, the dreaded visits to the orthodontist. In the end you will have great aligned teeth. Which is step one towards the dream Hollywood smile. Just look at Katherine Heigel's teeth while she laughs and you will know what I mean.
9- In the end since you have more confidence in your teeth you will be laughing and smiling more, you will be taking more pictures, you will be more talkative, all of which will improve your life and your confidence.
10- Every one in Kuwait is wearing braces now, young old, rich poor. Its the new Habba. It also means that in two years time everyone will have great teeth and if you have the slightest mishap in your own teeth it will stand out, badly that is.
So even though its a bit scary, the part where they take your teeth out. Even though its painful. Even though you suffer from one to two years. In the end when it comes off its quite worth it. I cannot wait for mine to come off, maybe in December insha2 Allah.
Look in the mirror, if you need braces then GET braces. There if no excuse for having bad crooked misaligned teeth now a days. No, being afraid is not excuse. There are many different treatments out there, take your pick!