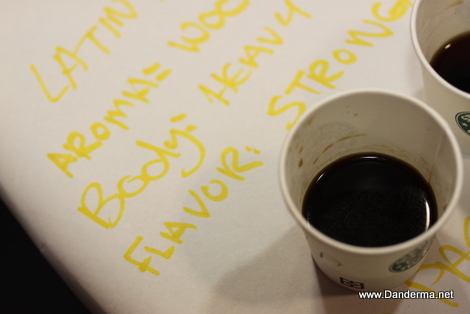 Yesterday we had the opportunity to venture into a place rarely seen by the general public, the Starbucks training room in the M.H. Alshaya head office!
It was a bloggers only event where a new Starbucks coffee was introduced, the new blonde roast! We were split into two teams where team one went to the Barista training room first. The training room was set up to resemble a Strabucks cafe with a white board and a fully functioning coffee counter.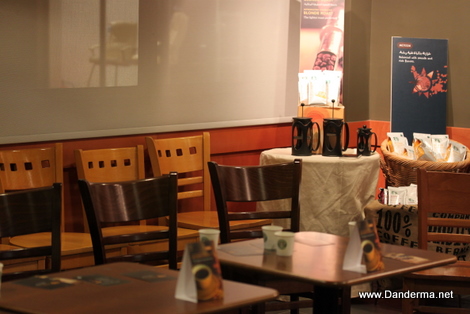 Here is the coffee counter where my fellow bloggers were taking turns making their own lattes! It reminded me of my coffee training days of Gloria Jeans Coffee (post) and I immediately felt nostalgic to grinding, tamping, frothing, and getting a perfect shot of espresso <3
I got into a green apron and made myself a nice tall cup of Cappuccino with a beautiful froth! I have to say it was the best cappuccino I've ever tasted in Starbucks, after all it was made by moi, barista Danderma (3eshtaw) :p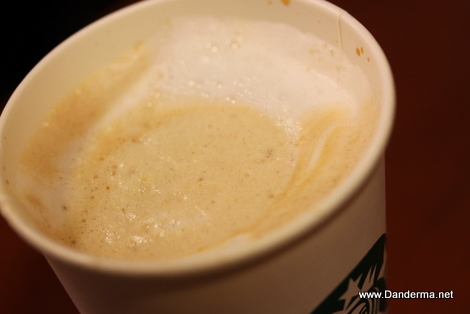 7safa ma7ad 9awarny

Anyhoo, after blogger team one made their coffees we moved into another room where Starbucks conducts the coffee tasting for their employees.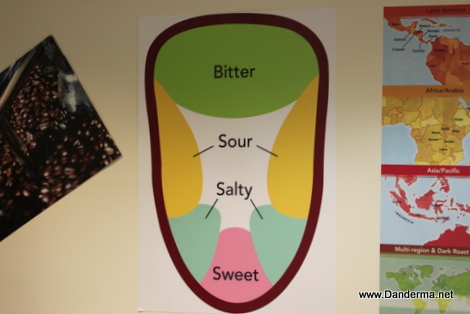 In the room various posters were hanging on the wall and there was a big table spread with freshly brewed coffee of different types alongside plates of spices, liquids, fruits, and jelly beans!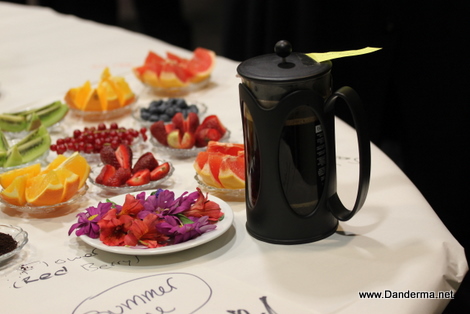 If you follow my blog you might recall the coffee tasting test I've posted about before in my coffee course (post). I recall the techniques of coffee tasting given that I've not only done it more than once but I've already conducted it on poor people :p
Basically they guide you on the ways your tongue can recognize flavors and aromas with different types of coffee. They however didn't say anything about the body of the coffee. They used jelly beans for the aroma technique which weren't very sharp. The mentos would work much better.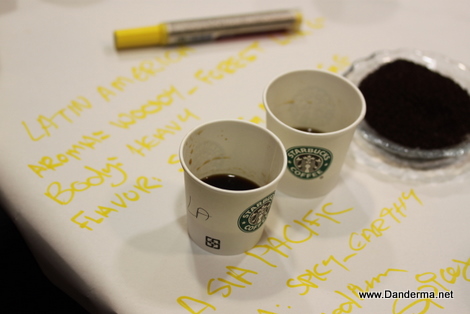 While tasting the coffee we jotted down our observations. When it was over we went into the coffee training room again to be treated into a feast of sandwiches and mini desserts then we were given goody bags with their newest coffee blend and a new Starbucks coffee mug.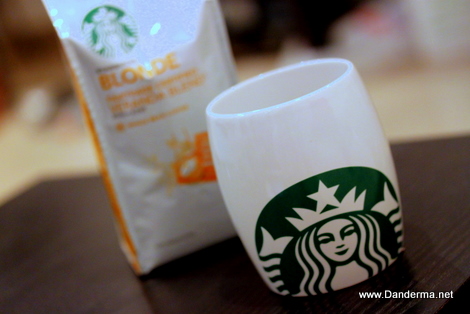 If I was to describe yesterday's event it would be a crash coffee training course. Now Starbucks since you have this awesome specialized training room why don't you offer training courses? So many people would love the opportunity to learn about coffee training. I was lucky enough to get trained by Gloria Jeans coffee and many people were interested in a similar training course.
Thank you so much Starbucks for a lovely evening. I really want to open my own coffee shop one day. I enjoy making coffee as much as I enjoy drinking it <3 Thank you Mr. Matthew, Ms. Kerry, Ms. Rana, Ms. Rawan, and Mr. Faisal for the invitation and being gracious hosts