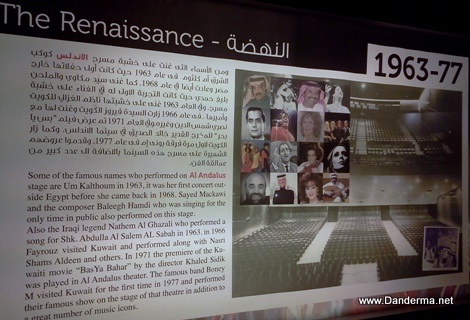 Yesterday I was in 360 Cinescape when I saw an exhibition of the Cinema's History and artifacts in Kuwait. It is so worth a visit and I enjoyed it very much. What caught my attention however is the stars who once sang in cinema Al Andalus. I knew Abdul halim, fairuz,om Kalthom sang there in the golden ages of Kuwait. I didn't know that bands like Boney M did too! O someone who looks like the Opera's Pavarotti but I am not sure and that guy who screams in Rocky Movie and sings living in America -dunno his name-!
I am trying to imagine Kuwaiti men i the 70's, big hair or long hair with Charleston trousers filing in to Al Andalus cinema and dancing to Daddy Cool and No Woman No Cry! What happened? Why do we have to board a plane to Dubai and Abu Dhabi to listen to good music? In the SIXTIES and SEVENTIES of the past CENTURY we had bands playing in our country… why can't we have the same in the 2nd decade of the 21st century? He who wants to listen can go listen, he who doesn't want to can stay at home. Live and let live!
I want to see Ballet, Swan Lake, Lord of the Dance, Opera, Fairuz, something… anything in my own country. It's not my fault I was born too late in the 80's y3ni!